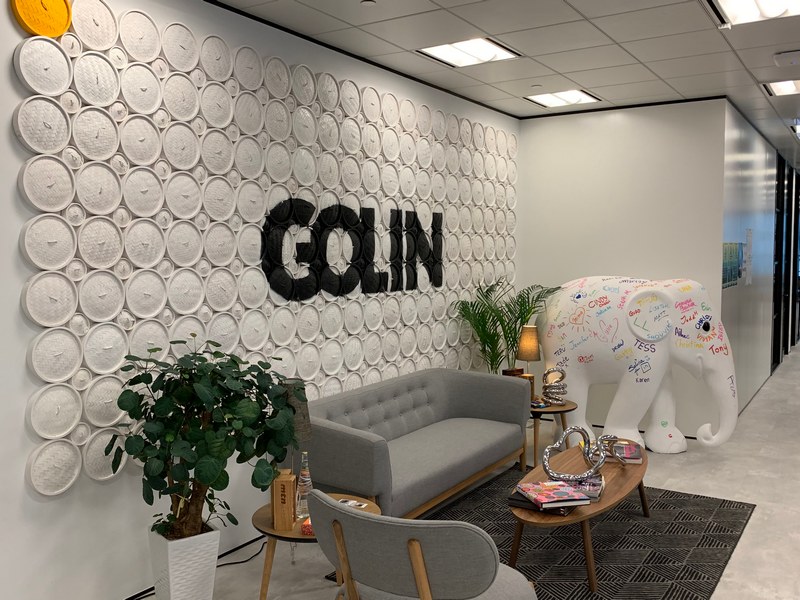 (3 September 2019, Hong Kong) Golin Hong Kong has relocated to One Taikoo Place; unveiling a new office space that's been carefully designed to boost employee creativity, wellness and collaboration. The move coincides with a busy six months for the agency, in which Golin unveiled its new progressive PR positioning worldwide and won PRWeek 2019 Global Agency of the Year.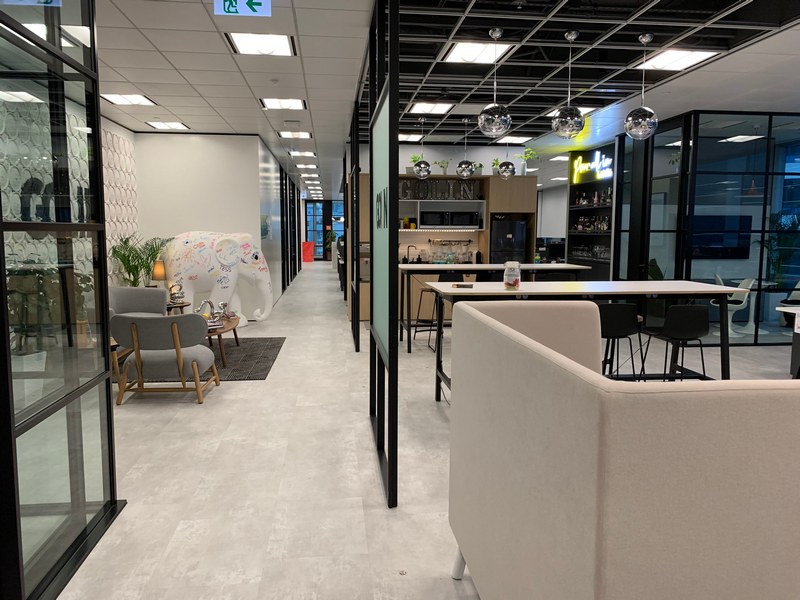 "It's been an exciting and successful year to date and we're keeping up the momentum with a radically refreshed office space in Hong Kong. Moving location has been an opportunity to change up our design and create a space that accommodates what our team needs and wants in a working environment. The result is a modern, creative space where everyone can feel inspired to give it their best and have fun doing so" said Jane Morgan, Managing Director of Golin Hong Kong.
"The team were actively involved in voting for what was included in our new space; that's why we have a bed, a bar and a video game room!"
Just one of the unique features Golin Hong Kong boasts is its walls. Rather than having stock photos or corporate visuals, each major wall in Golin Hong Kong is an art installation inspired by the PR industry and the spirit and ethos of Golin people both globally and here in Hong Kong.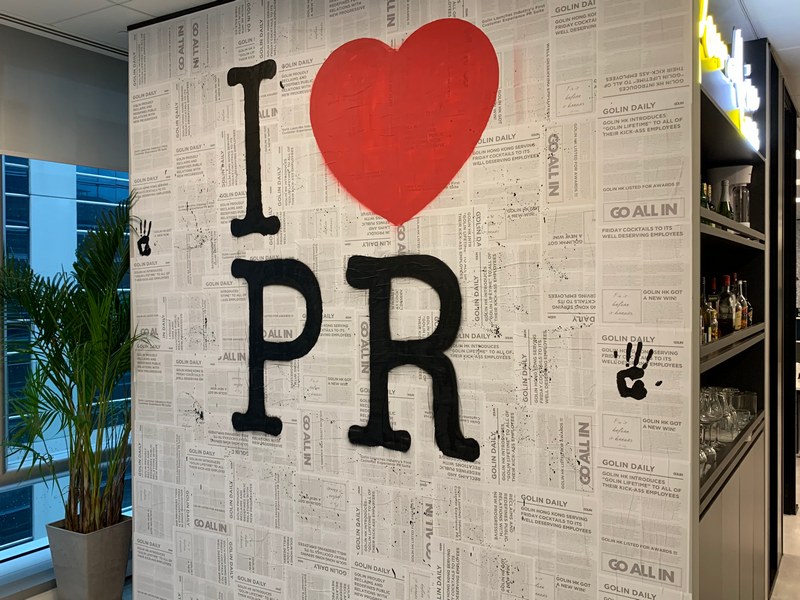 For example, the entrance hosts 500 steamer baskets of various sizes, spray painted white and mounted on one wall, with the Golin logo layered over the top in black and one basket at the top left of the installation spray painted Golin's signature yellow colour.
Morgan continues "We wanted both working in and visiting Golin to be an experience, and we think we've achieved that – we've already had more guests through our doors in the last two months than we had in the last few years in our previous office. Our teams are proud and happy; they've hosted client events, a cheese and wine tasting and a mediation session in the last few months. And there's more to come, I'm sure!"
With a range of workspaces to evoke productivity, various collaboration areas and design rooted in wellness, the Golin Hong Kong office signifies a new era for the business, which has been in Asia for almost 30 years.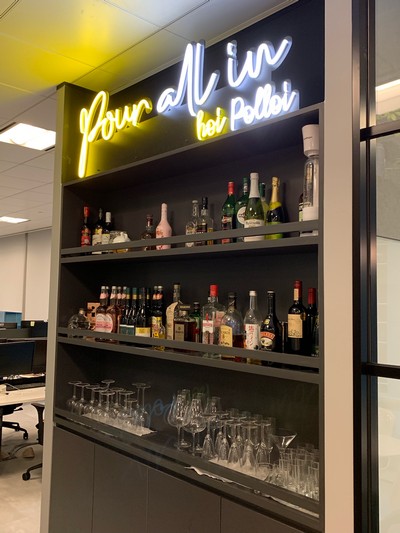 Varied spaces where productivity can flow
A large body of research indicates that employees today feel most productive when they can choose to work from a variety of spaces. The Steelcase Global Report, for example, notes that 88% of highly engaged employees have access to a range of workspaces and feel empowered to make choices about where and how they work.
In light of these findings, Golin's new office layout was designed around the principles of open plan yet includes a larger variety of areas – helping staff work together productively in collective, communicative spaces or get down to business in a private, quiet environment. Desktop phones have been replaced with Skype for business, and unified technology solutions in every room mean colleagues can instantly connect and share media for presentations. Spaces have been strategically designed with transparent walls, to foster a transparent environment where ideas and productivity can flow.
"We wanted an open plan office done right, so colleagues aren't spending all their time lost in a sea of desks. Working in PR means everyone wears a number of hats every day, so it was important to us that the new office have a variety of different spaces and be designed to encourage a natural flow of people, productivity and ideas, throughout the day," said Jane Morgan.
The new space also puts Golin closer to its sister agencies in the IPG network, including McCann, Jack Morton, MullenLowe and Mediabrands, which have all relocated to One Taikoo Place. Golin and Jack Morton made the unanimous decision to forgo a wall between their adjacent offices on 16/F, to foster a deeper level of collaboration within the agencies. Coming together in one building has already enabled closer IPG coordination.
Design to foster game-changing creativity
Handmade, one-off art and design installations provide unique creativity and inspiration throughout the office. These include a dim sum basket wall housing the Golin emblem; a bamboo installation emblazoned with a favourite quote from the company's founder Al Golin – fix it before it breaks; and two newsprint feature walls, spray-painted in minibus calligraphy font, to salute the world of PR and media in Hong Kong.
"Every art installation in the new office uses core Golin brand in a localised way, to emphasize our global network and deep expertise here in Hong Kong. Whether it's steamer baskets to reflect Hong Kong as the dim sum capital of the world, reprinted pages of Hong Kong newspapers from the last 50 years, or bamboo scaffolding to reflect the strength and bravery of the people of Hong Kong – every piece shows our creative Golin ethos and pride for Hong Kong," says Graham Becker.
Because a change of scenery is so important to the creative process, the office was designed to include comfortable, social, adaptable spaces that encourage colleagues to connect with one another during and after the workday. A common kitchen area is housed within four movable walls to provide a flexible space for eating lunch, Friday drinks, casual catch-ups or simply escaping the desk with a laptop. The kitchen sits just next to the office bar, Pour All In – a name which was voted by colleagues and is a play on Golin's motto Go All In – and a video gaming room for downtime.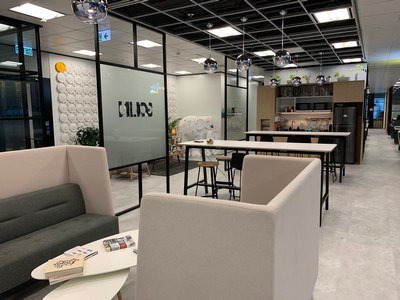 A sustainable space where wellness comes first
Staff wellness is a core value for Golin. Offices around the globe debuted the Golin Lifetime policy two years ago, entitling staff to unlimited leave, work-from-anywhere benefits, and a monthly Health & Wellness stipend (HK$580 per month in Hong Kong) which employees can use for gym membership, music lessons, pet care or other wellbeing pursuits.
When designing the new office space in Hong Kong, wellbeing was a priority. Every workspace is bathed in natural light from floor-to-ceiling windows; an important consideration, as research shows that exposure to daylight in the office can lead to a 51% drop in eyestrain, 63% reduction in headaches and a 56% drop in drowsiness.
To help staff prioritise their wellness, the office also has a designated bed room to rest and recuperate. The private room – it's the only space in the office with frosted walls – is a relaxing sanctuary for nursing mothers and anyone who just fancies a power nap or meditation session.
Other wellness features at the new Golin office include built-in air purification, uncarpeted floors to improve air quality, and indoor plants for better air and a greener office. Golin also took into account the wellness of the wider environment, bringing in sustainable features like recycling bins, automated lights to reduce power usage, and a new tap water filtration system which reduces the office's plastic usage and carbon footprint by eliminating the need for a weekly water delivery.
If you are interested in paying a visit to the new Golin office space at One Taikoo Place, please get in touch!