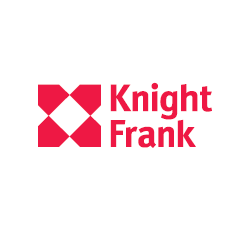 Miami on top in 2022 with prime price growth of 10% forecast
Prime Global Forecast for 2021 & 2022 Highlights:
• Miami leads the forecast for 2022 with price growth of 10%
• Sydney is in second place with prices expected to rise 9% in 2022
• Los Angeles (8%), Auckland (7%) and London (7%) complete the top five. For Auckland 7% represents a marked slowdown, for London it will be the city's strongest rate of prime price growth since September 2014.
• Comparing with other world-leading gateway cities which are not going to continue their strong growth rates in 2022, Hong Kong has a relatively stable performance. Hong Kong prime price growth is expected to moderate from 8% in 2021 to 5% in 2022. The economic slowdown on the Chinese mainland, along with a slump in the Hang Seng, are constraining factors, but luxury prices remain at an all-time high and an influx of purchasing power from the Chinese mainland is expected once the border reopens.
Martin Wong, Director and Head of Research & Consultancy, Greater China said, "Despite the high price, luxury residential properties in Hong Kong remain good assets for investors who are looking for capital appreciation over the longer term. Under the current market situation in the Greater China region, it is expected the luxury residential prices in Hong Kong will outperform that in the key cities in the mainland in the next 12 months. Hong Kong will remain low interest rate environment before 2023, with the effective mortgage rate expected to stay below 2%, encouraging more end-users and investors to enter the market."
Key drivers of price growth in 2022:
• Normalisation of travel will influence all high-net-worth individual (HNWI) buyer groups: owner occupiers, investors and second home purchasers
• Interest rates rises will be less influential at the prime end of the market where cash purchasers still dominate in several cities
• Inventory levels are at record lows in some prime markets and new construction has been delayed due to the pandemic and blocked supply chains – Sydney, Los Angeles and Singapore are particularly affected
• Amassed savings in developed nations are not yet depleted and wealth has appreciated due to the rise in the value of assets, both real estate and equities
• Second homes in liquid and transparent markets are in demand as HNWIs look to make up for lost time with family and friends
Trends to watch:
• The Chinese mainland's slowdown: The Chinese leadership look steadfast in their goal to control developer financing and restrict credit growth in its push towards 'common prosperity'.
• Stepping away from stimulus: With some central banks taking cautionary steps away from ultra-accommodative monetary policy, asset prices will no longer be artificially inflated
• Higher taxes: Singapore is considering a wealth tax, President Biden has proposed increasing the top rate of tax for highest earners, the UK is reviewing its capital gains taxes and Spain plans to introduce a rent cap for landlords with multiple properties
• Rental recovery: Top tier cities are seeing rents and demand accelerate as CBDs reopen. Buy-to-let and institutional investment will increase where the numbers stack up
• Greenback to strengthen: The US dollar is forecast to maintain its current strength* (USD/EUR 1.15, USD/GBP 1.34) in 2022 as global economic uncertainty rises and the Federal Reserve looks to tighten monetary policy
*As at 15 Nov 2021
Prime residential price forecast 2021 and 2022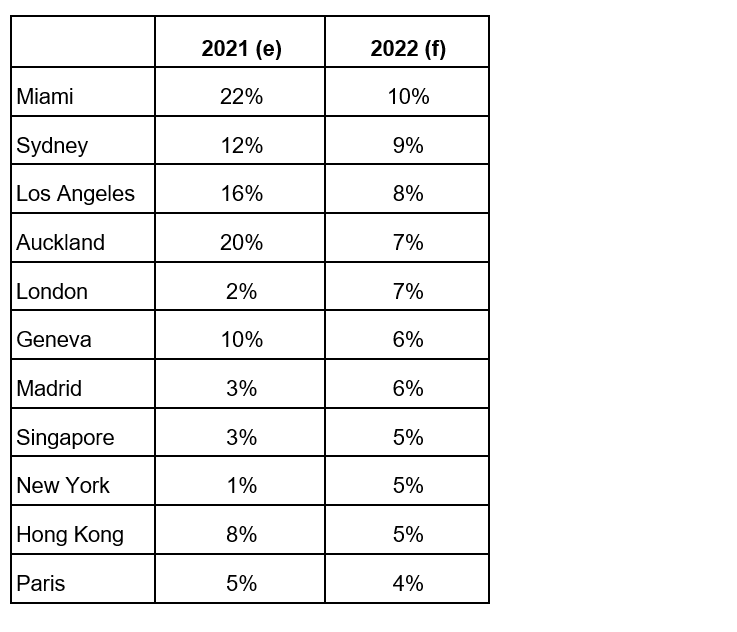 Please find the link to the blog here: https://www.knightfrank.com/research/article/2021-11-22-global-prime-residential-price-forecast-miami-on-top-in-2022