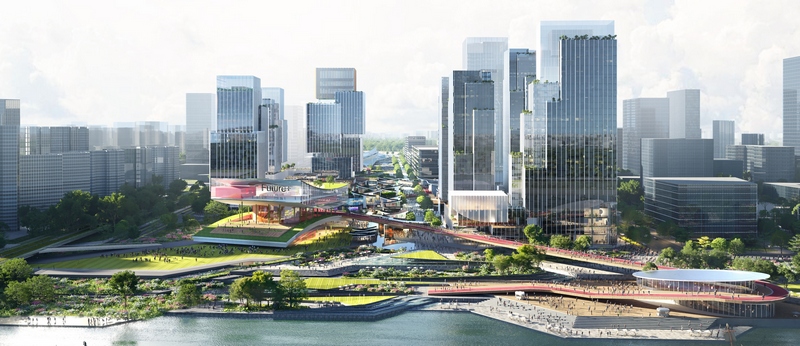 China's railways are growing with powerful momentum and it is a key urbanisation trend in the country to integrate world-class transport infrastructure with regional urban planning, giving to the rise of transport-oriented developments (TODs). The country's top-level 14th Five-Year Plan proposes to step up development of one-hour living circles around regional mega-cities, mainly supported by railway links between and within cities; on the city level, a compact, multifunctional, multidimensional transit-oriented mode of development is preferred, with emphasis on both underground and overground space, greenery and open shared areas.
(按此瀏覽中文版)
But why is this specific mode of development a big thing in China? Three architects from LWK + PARTNERS explain below. From regional development to urban planning and project design, the conversation explores how the integration of the station, city and its inhabitants challenges the perception that high-density development lowers the quality of life. LWK + PARTNERS has planned and designed TODs for over 20 years to extend Hong Kong's early success in the model to the Guangdong-Hong Kong-Macao Greater Bay Area (GBA) as well as other Chinese cities.
Nine keys for future TOD
The TOD model involves designing high-density mixed-use developments around a public transport hub to create an urban centre that integrates residential, commercial, cultural, public services and other urban functions, with an emphasis on efficiency, convenience and pedestrian-friendly spaces. "It offers a formulated approach to land use planning that features mixed-use spaces, high accessibility to public transport, integration of station and city, and low-carbon mobility," said Kenneth Lo, LWK + PARTNERS Director leading its Greater Bay Area studio in charge of multiple TOD projects, "It has easily become a highly promising and widely adopted way of developing buildings and cities."
"LWK + PARTNERS believes that TODs not only serve diverse functions, but also adapt to different urban contexts to bring social, economic and environmental benefits. Future TODs will be characterised by compactness, smart mixed use, eco-friendliness, pedestrianisation, interweaving connection, shared spaces, underground walkways, wellbeing and resilience, and mixed strategies. These nine elements are distilled from successful examples worldwide and our firm's experience of working with the construction and transport sectors towards national carbon targets."
Railways are good for creating a well-knit urban fabric by systemically connecting commercial, residential, industrial and public service components. By the end of 2020, China had 146,000 kilometres of operating railways, including 38,000 kilometres of high-speed railways which make up over two thirds of the world's total. The 14th Five-Year Plan will add 3,000 kilometres of intercity and intracity railways to the extensive and expanding national network, completing regional networks for the Beijing-Tianjin-Hebei, Yangtze River Delta and the Greater Bay Area urban conglomerations. With the rise of intercity exchange and increased urban-rural interaction, economic and industrial growth as well as cultural integration are expected to follow. Places with complementary strengths and resources can also synergise better with one another.
Higher accessibility is a boost to both regional economies and city life itself. "We anticipate construction to grow with rapid railway expansion in the Greater Bay Area and across the country," Kenneth noted, "As a strategic region of national importance, the Bay Area must seek more than prosperity and health. Encouraging creativity, innovation, tech capabilities and a friendly urban environment are all vital ingredients for supporting the country's healthy development. This also explains why TOD receives so much attention in the Bay Area and China."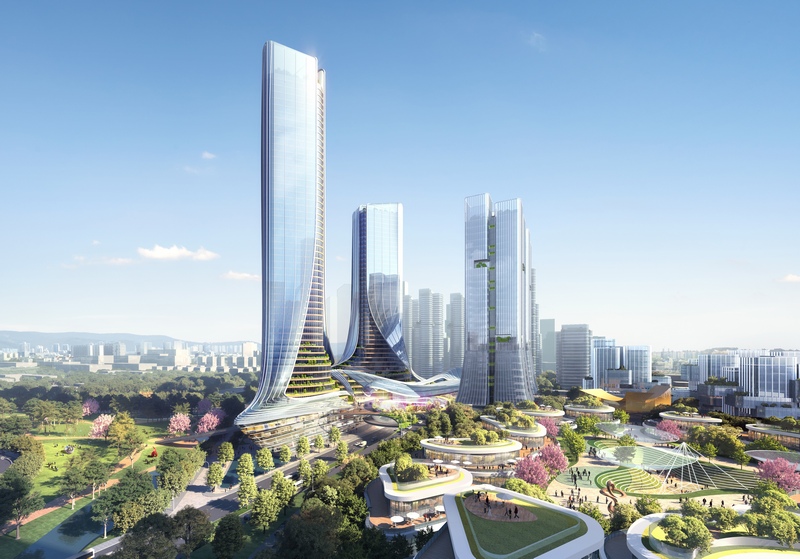 Designing an enjoyable, biophilic experience
No matter how complicated, multifunctional and efficient a project is, architectural design is always about the people and community using the space. As the world transitions toward low carbon, future TODs will increasingly embrace biophilic design.
Director Ricky Wang, who works consistently to reimagine architectural forms, said TOD as a form of compact vertical development may be technically demanding, but users should always come first. To design a welcoming humanised experience, therefore, requires a lot of consideration into connecting the building with the people.
"The most difficult part about designing TOD is fusing different elements under a single framework to create a seamless total solution. As a model for urban planning, development, construction and operation, TOD, like all other architectural projects, must be tailored to the context rather than abiding by a rigid 'formula' or an over-emphasis on the transport links at the expense of the project's uniqueness or the human experience. The outcome of biophilic design must ultimately be approachable and felt by users, and promote the human-nature connection."
Ricky took Poly Huchong Station Transit-oriented Development in Foshan, China as an example to show how biophilic design promotes mental wellbeing. Conceived around 'Urban forest, terraced park, sky city', the project reinterprets modern community living in the low-carbon age. A vibrant 37,000-square-metre green core features a greenery belt and pleasant river views to create an energising urban lung.
In terms of landscape composition, the project creates a terraced park with multilayered features affording a refreshing leisure experience. Vertical greening is adopted in the three-section car park for visual enhancement. The project also embraces the local waterside environment with Lingnan-style aquatic design features, offering residents a lively urban park and quality living environment.
Promoting urban identity and urban upgrade
Experienced planner and urban designer Director Gregory Leong thinks the introduction of friendlier transportation can transform older neighbourhoods by releasing undiscovered local values, creating opportunities for regional upgrade.
A world-class TOD design would sharpen a city's urban identity by raising land value, improving living experience and spatial comfort, tailored to the city's inherent form and character. The model not only ensures accessibility of different urban components, but also focuses on establishing a 'public transport + slow mobility' network with extensive bike paths and walkways, as well as utilising underground space and developing urban green corridors.
Greg refers to Taipingyuan Station Transit-oriented Development in Chengdu, China to highlight the significance of encouraging green mobility. Sited in one of Chengdu's key renewal areas, the Hongpailou commercial district, the project enjoys rail connections with the Chengdu Shuangliu International Airport and improves spatial quality by reorganising functional components. It also serves as a southwestern gateway leading into the city centre.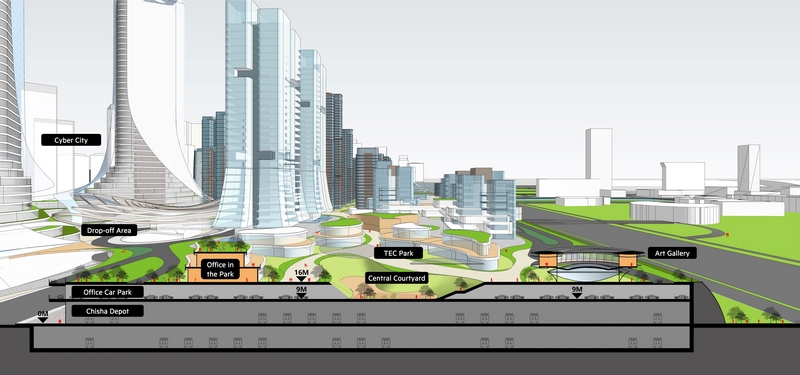 The project envisions to be a full-service garden-style urban landmark located at a transport hub. Encompassing a wide range of functions including retail, hotels, offices and residences with gardens, the project proposes a future-looking multipurpose urban complex featuring streamlined forms, green façades and overhanging structures with welcoming open spaces.
Transport connections are arranged at multiple levels. An in-town check-in point is directly linked to the railway station to forge seamless integration between the city, rail and airport. A web of slow mobility facilities also links it up with the surrounding sports park as a quality extension of recreational space.
Transforming mobility and commuting means changing a city's spatial structure. In the coming years, LWK + PARTNERS has a pipeline of green TOD projects in the Greater Bay Area and other Chinese cities that organically combine biophilic design with complex functionality and highly efficient transportation to create dynamic lifestyle centres. In the new age where urban conglomerations continue to mature, regional connections and collaborations will be central to the country's future growth.
For further details, please visit www.lwkp.com.