Benoy have a reputation for crafting exemplary retail-led environments. It's their signature blend of smart design and even smarter science that creates a milieu where consumers feel as if they are royalty. It's deluxe. First class.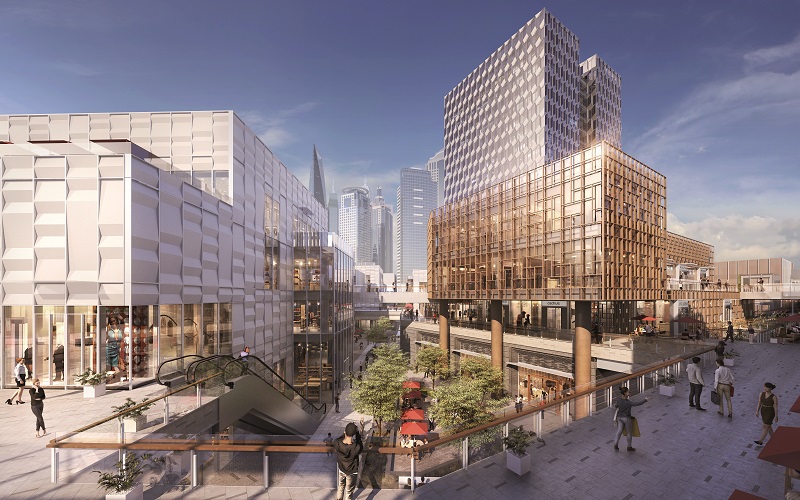 (Gala Avenue Westside, Shanghai)
Until now, their lesser-known corporate chops have also included masterplanning. At Central Quay in Cardiff and Gala Avenue Westside in Shanghai's Lujiazui district, the practice is recreating the urban environment with their sense of "creative commerciality". Both commissions have been shortlisted at this year's Amsterdam edition of the World Architecture Festival.
Gala Avenue Westside is one of Benoy's biggest projects in Asia. The mixed-use commercial space at Lujiazui's Harbour City was once the Shanghai Shipyard. Pieces of this epic urban regeneration scheme – the area is in the vicinity of 250,000 square metres, about the same footprint as New York's Grand Central Station – have started to come online. Once completed, there will be an office tower, a walking street, a five-star hotel, cultural and art buildings, residential complexes and a commercial centre. A 100-m-high office tower and 12 interconnected retail hubs between two and three storeys forms the bulk of the programme.
Benoy faced the challenge of incorporating the area's riverside aspect, the landscaping and other projects in a masterplanning role. The brief called for an impressive, commercially focused development that was ready for business and yet spoke about the venue's past.
"For Gala Avenue, we have adapted elements of the shipyard into the riverfront development. Similarly, the Lujiazui area of Pudong is known for its high-rise towers, and so we wanted to provide a juxtaposition to this through our design," says Benoy Shanghai director Qin Pang.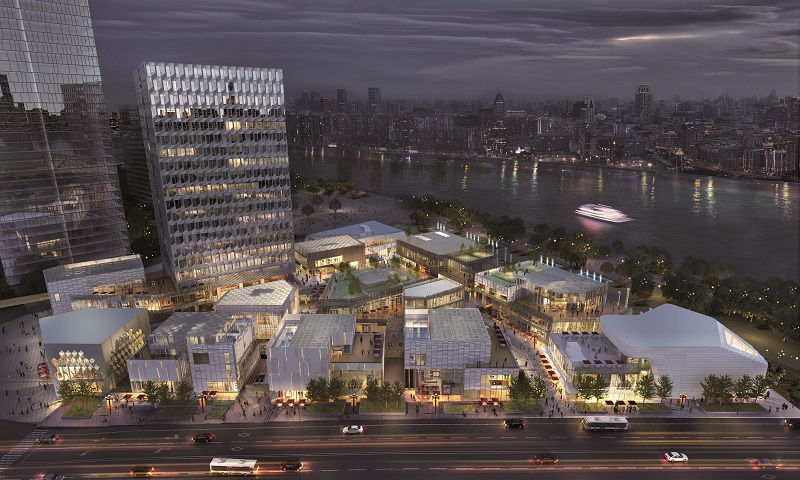 (Gala Avenue Westside, Shanghai)
"The design for Gala Avenue is a concave of sorts along the Huangpu River skyline. The 12 individual boutique buildings and office tower provide a people-scaled haven amongst the tall buildings. The architecture of the buildings references themes such as New and Old, East and West, and Traditional and Modern."
Meshing the space together are some of these competing ideas. There's old and new construction, and aged and contemporary materials that help add a layer of richness to the palette. The approach also helped create points of interest throughout the space.
"In our designs we are aiming to respect the site history whilst meeting new consumer demands. That's the main balance we are trying to achieve," says Pang.
The design team say they are also mindful of the need to reinforce a sense of community and social responsibility, which could be a catalyst for improvements elsewhere in the community on a grand scale.
Several oceans and dozens of cultures away, Benoy is knuckling down over another urban regeneration job, bringing the same richness to the work.
"In Cardiff, our approach is to balance density and space with activity and amenity. Consumers are looking more and more towards an integrated lifestyle package that blends places to live, work and socialise and, in this case, an adjacency to research and education," says Jamie Webb, the head of Benoy's Europe, Middle East and Africa practice.
The Central Quay masterplan is the biggest urban renewal scheme in Wales. The site of the former Brains Brewery is prime riverside in Cardiff, running along the River Taff. The work here calls for a plaza of food and beverage offerings, around 1,000 apartments, about 140,000 square metres of new office space and a local university. The remnants of the 19th century brewhouse will form the backdrop of the riverside plaza when the site opens for business in 2020.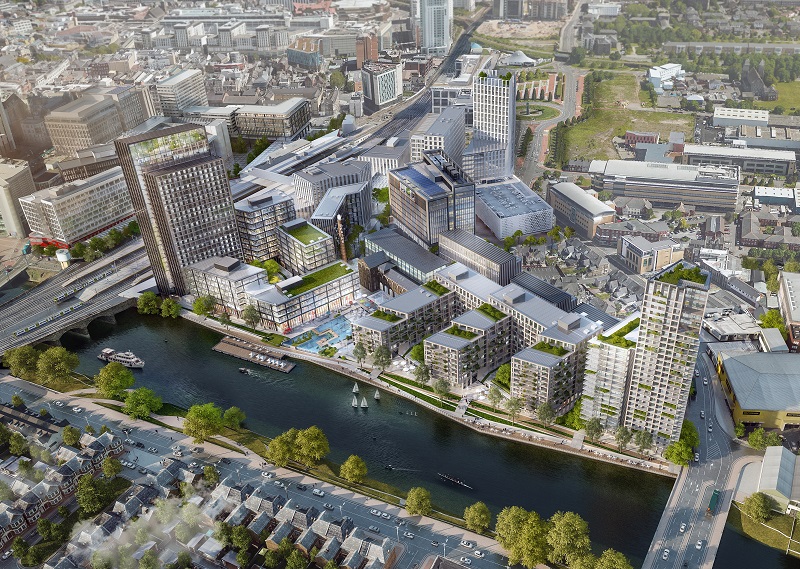 (Central Quay, Cardiff, Wales)
"Retail and food provide the backdrop as people look to 'experience' spaces and treat public space as an extension of their living space," says Webb. "In Cardiff, we worked hard to develop an urban lounge concept that collected Instagram moments that change with the space during the day and across the year."
Webb has spent some time identifying what it is about a Benoy project that sets it apart. While he admits that the practice's roots are in retail, they've captured the essence of how people move through spaces. "It's our innate ability for user-centric design, understanding the needs of the users of these developments," he tells PRC Magazine. "This expertise has become highly transferable as the boundaries between sectors blur. Mixed-use developments are where we live, work and play."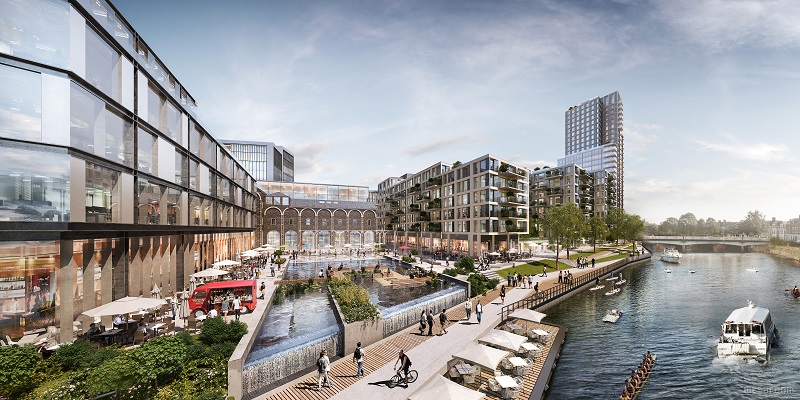 (Central Quay, Cardiff, Wales)
The Suzhou Old Town Retail Street
Welcome to Water World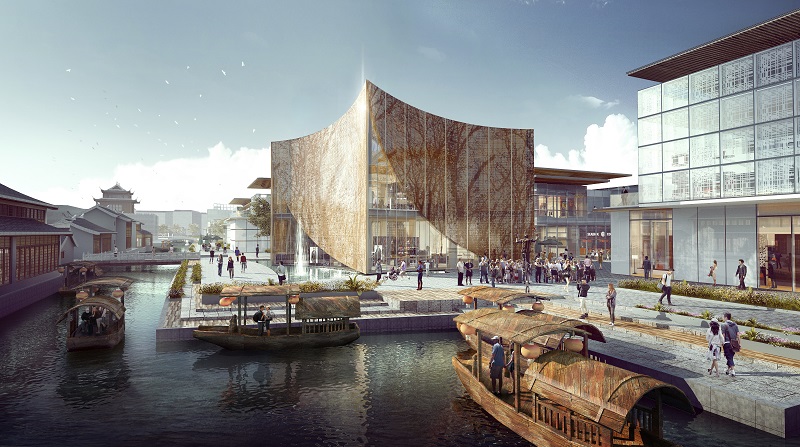 Suzhou is much loved by Chinese for its romantic waterways and culture. The city speaks to a nostalgic China; the country that was great and is now great again. The city is home to United Nations World heritage attractions, classical pagodas and Insta-worthy ancient stone bridges. It is also a seat of power and its location near Shanghai has helped make Suzhou one of mainland China's most vibrant economies.
Benoy's masterplanning credentials were in play again when tasked to refashion Suzhou Old Town Retail Street, "a three-dimensional playground to elevate Old Suzhou". The Shanghai studio – which celebrated a decade on the ground earlier this year – has a culture-led vision for a new retail and leisure attraction next to the famous City Wall, built in 514 BC.
The 30,000-square-metre site sees elements of gardens, bridges, wharves and the opera stage, integrated with commercial activity to make a "three-dimensional playground".
The concept is to elevate the notion of a retail street from commercial precinct to engaging city attraction.
Venues for activities – swimming, skateboarding and rock climbing – are woven together with a museum and opera stage, with landscaping at ground level and at the roofline connecting the entire street.
Benoy's Shanghai director Qin Pang sees the design of the street as being part of the wider precinct. The offering to consumers must be layered, innovative, cultural and, of course, commercial. The city's history may attract the tourists, but it will be attractions such as Suzhou Old Town Retail Street that encourage them to stay.