Since the policy of revitalising old industry buildings was introduced locally in 2010, the number of these properties being transformed into offices, hotels and retail spaces has increased. A recent example is the conversion of a 1966 factory building into Artisan Hub, a commercial development at 9 Luk Hop Street, San Po Kong, Kowloon.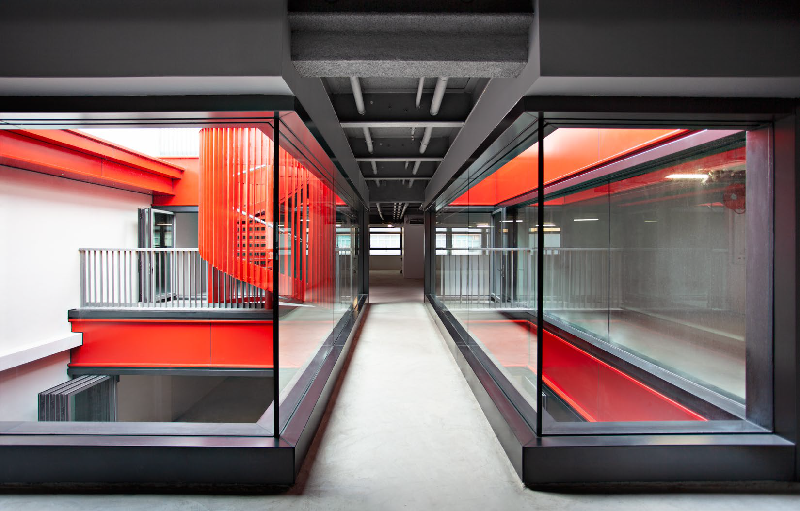 Adaptive reuse – changing the function of old industrial buildings but not their forms – is the theme of a revitalisation initiative undertaken across ageing factory districts from Kwai Chung to Lai Chi Kok and Chai Wan. The aim is to provide more floor space for suitable uses to meet the changing economic and social needs of Hong Kong.
One recently completed project is Artisan Hub, a commercial complex with office, F&B and retail spaces, which has become an eye-catching addition to the neighbourhood with its modernist industrial character, made more prominent by a light-filled atrium, a blazing red staircase and other striking details, visible through a glass façade.
Challenging feat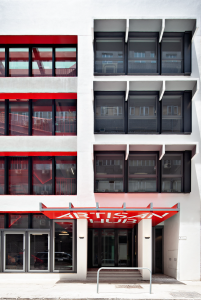 Compared to constructing a new building from scratch, it is no less challenging to convert a long existing one to different uses. Many of these challenges surfaced during the building conversion process for Artisan Hub, where Spawton Architecture, a local architecture and interior design studio, was behind its design while Fruit Design and Build Limited, a multidisciplinary design practice, was the main contractor.
Billy Li, Project Manager of Fruit Design and Build, revealed that the extent of restoration and reinforcement work required for each of such buildings differ. "As with all the other property conversions we undertook, one of the first things we did was to assess the building's structural conditions. The former site of Artisan Hub was 51 years old. At this 12-storey building, the conditions turned out to be so decrepit that extensive concrete recasting had to be carried out for a third of its 36 restrooms, some columns and beams and lift shafts," he said. Strengthening works also covered the design load and ground-floor footing.
Busy traffic around San Po Kong and the neighbourhood's cramped spatial conditions posed a difficulty for the delivery of building materials to the site and construction debris to be transported to the landfill. "We had to work out the logistics together with neighboring shops, including an automotive store and a recycling shop, so they could make way for our trucks entering and leaving the site according to the mutually-agreed transportation arrangements," he added.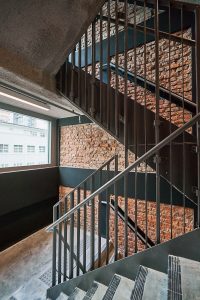 Hectic and heavy work schedules
Delays are not uncommon for construction and property conversion projects in Hong Kong, where design and functionality are often juggled under the multiple constraints of limited space and strict regulations. Trial and error are inevitable in the process of finding the best possible combination. Therefore, in many cases, design changes are continually made to projects well in progress. Due to constant changes undertaken to maximise the quality of the final deliverable, the main challenge was to complete the core building tasks of the Artisan Hub Project within a tight timeframe.
Despite this, Fruit Design and Build, as the main contractor, was contractually obligated to honour the delivery deadline. "In the meantime, we completed all the peripheral chores such as spalling repair, concrete recasting, permits application to the Building Department and placing orders for building materials and lifts. Once the floor layout was confirmed, we could immediately start the main contract works and speed up the progress in those final months." Despite the hectic and heavy schedule, with the diligent efforts and close collaboration of the onsite management team and workers, the project not only met the timelines for the Fire Service Department and Occupation Permit inspections, it also satisfied all the requirements to obtain clearances upon the initial round of checks.
Meticulous, multifaceted project coordination
Due to the complex and ever-changing nature of the process, the revitalisation of old industrial buildings calls for tight, multifaceted planning and management. The Artisan Hub project was no exception. On top of technical tasks, the management team found itself performing lots of administrative work, like permit applications to various government departments, and all this had to tie in seamlessly with the project schedule and sequence in order to avert delays and slip-ups.
For instance, permit applications had to be submitted to the Building Department for Design and Build items like our steel staircase, railings and curtain wall. For alteration and addition (A&A) works, another set of statutory requirements had to be met. In addition, Construction Noise Permits and Noise Emission Labels needed to be obtained while permission from Environmental Protection Department must be sought for work outside normal hours," said Li.
"Good project planning and management are instrumental to ensuring that the numerous statutory regulations, with regard to building standards, fire safety, air pollution, noise emission, waste disposal and numerous other concerns, are fully complied with."
Implementing the design intent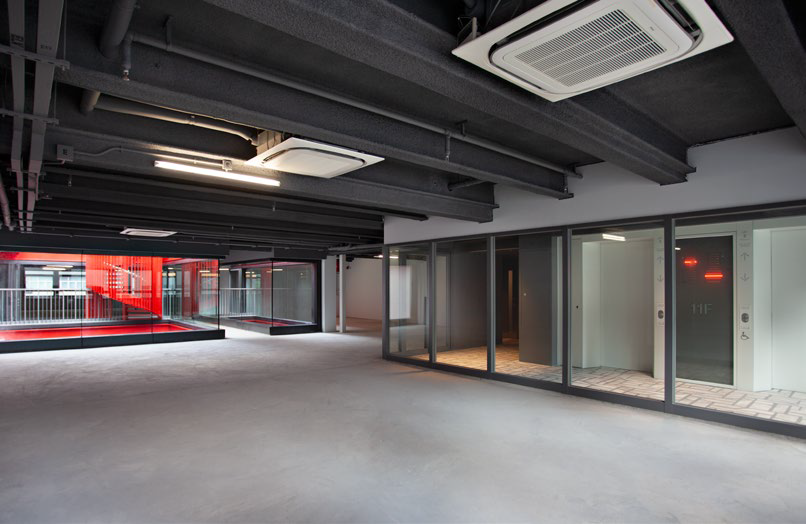 Realising the design intent is imperative for all construction and building conversion work. This is why regular meetings were held among the main contractor, the designer and developer to sort out problems and review the project progress of Artisan Hub.
"Besides meeting the Spawton Architecture team weekly to ensure the project was executed faithfully to its design concept, it was also a must for us to visit the developer's office on many occasions, where we applied a BIM model reviewing interfacing and other technical details, with the aim of delivering a better built environment," said Li. It was all this communication – between main contractor, client, design house, consultants and site workers – that made the project a success.
Li is also optimistic that Artisan Hub, now with its makeover fully completed, is likely to fetch a higher rental value and result in a similar rub-off effect on property prices in the neighbourhood.