(15 November 2023, Hong Kong) MPavilion, the flagship initiative of the Naomi Milgrom Foundation, opens its milestone MPavilion 10, designed by internationally renowned, Pritzker Prize-winner Tadao Ando, in Queen Victoria Gardens on 16 November. Ando's design for MPavilion 10—his first ever project in Australia—reflects his signature use of striking geometric interventions in nature and his precise, assured use of concrete. The opening kicks off the five-month design festival of public programming offering over 150 events. Every event is free. MPavilion, which first began in 2014, has grown to become one of Australia's most visited and impactful festivals, attracting more than 350,000 people during its ninth season.
"There is a magic moment each season when an architectural vision becomes built reality, and when we welcome the public who gets to engage directly with the innovative space created by inspired architects," said Naomi Milgrom AC, MPavilion Commissioner. "Tadao Ando has designed a new, iconic destination in Melbourne, one that will serve as both a contemplative spot, a temporary refuge from the bustle of the city, and as a dynamic site for creative discovery and vigorous discussion for those attending our public program."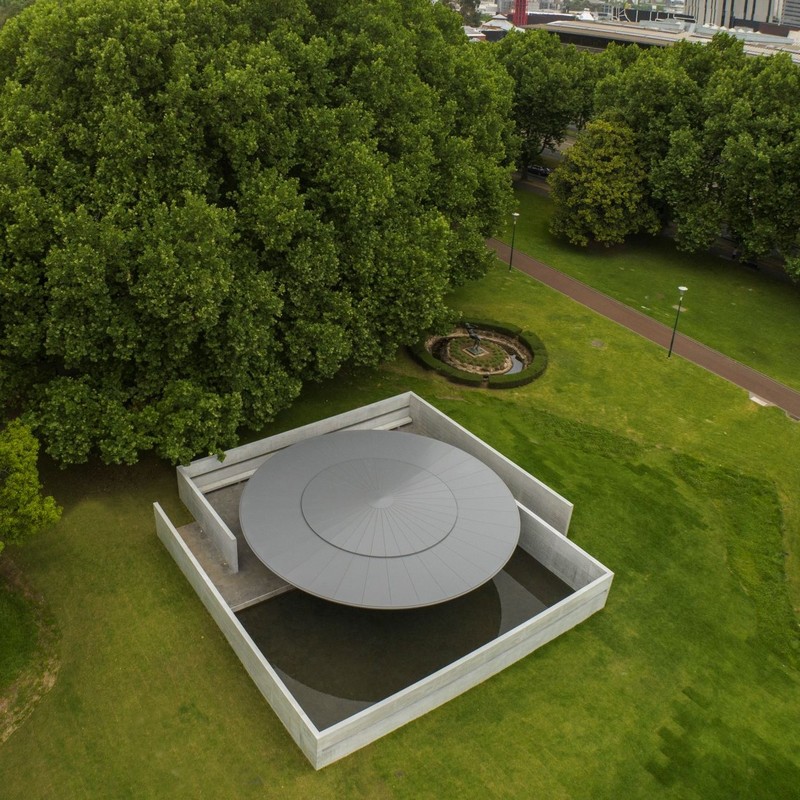 Positioned within Melbourne's cultural and botanic garden precinct, MPavilion 10 offers a memorable structure that is in dialogue with the park setting to create a space in harmony with nature. MPavilion 10 features a large canopy, a 14.4-metre aluminum-clad disc resting on a central concrete column. Two offset squares create two entrances that lead to the centre of the pavilion. Concrete walls of varying lengths partially enclose the space to create a tranquil sanctuary reminiscent of a traditional Japanese walled garden. A long (almost 17 metre x .225 metre) horizontal opening running both the length of the north and south walls frames views of downtown Melbourne and the parklands, connecting the city and lush greenery of Queen Victoria Gardens to MPavilion 10's interior. The geometric forms and symmetry are reinforced by an internal arrangement that is half paved, and half reflecting pool, which mirrors the pavilion canopy, sky, city, and surrounding nature.
"I am honoured to have completed my first project in Australia, and to have created a piece of living architecture that will have such an important role in the cultural life of Melbourne this summer," said Tadao Ando, architect of MPavilion 10. "I hope that as people visit, they allow this space to enter their hearts, and allow their senses to tune into the light and breeze interacting with them and this space. I hope for them an experience of harmony with nature, with themselves, and with others."
The opening weekend kicks off a number of creative responses to Ando's MPavilion. Visitors will be able to borrow a unique quilt created from the MPavilion Quilt Challenge, a collaboration between MPavilion, Melbourne Modern Quilters Guild and Studio Ongarato. Each quilt interprets a set of instructions inspired by Ando's architecture. Designer Thomas Pavitte offers Geometry in Perspective that encourages visitors to view and appreciate the architecture and surroundings through 'window' cutouts to frame and capture views for social media.
MPavilion 10 is free and open to the public in Melbourne's Queen Victoria Gardens from 16 November to 28 March 2024. The program of more than 150 free events with hundreds of collaborators is curated along three themes. In November and December 2023, programming will consider Memories of Place, the links between water, gardens and changing landscapes and how we benefit from nurturing their existence and stories. In January and February 2024, the festival will honour Craftsmanship, platforming those who practice it and the artistry and devotion involved. A Blank Canvas in March 2024 will close out MPavilion 10 with a celebration of Ando's design philosophy, sparking creativity through his minimalism, masterful conception of space and use of light, shadow and water.
Visit mpavilion.org for the latest program and information.