OMA by the Sea is a real estate project developed by Wing Tai Properties in Hong Kong's Tuen Mun District, which is a very green area located directly by the sea.
(按此瀏覽中文版)
The brand name OMA by the Sea is made up of the Hawaiian word "OMA" for green and the addition "by the Sea" – the latter clearly pointing to the geographic location of the project.
The word mark OMA by the Sea, on the other hand, takes up the colours of green and blue, with the green dominating and being flanked by two blue squares. The real estate project is aimed primarily at the target group of newly married couples and first-time home buyers, people who are looking for something special that clearly stands out from traditional real estate.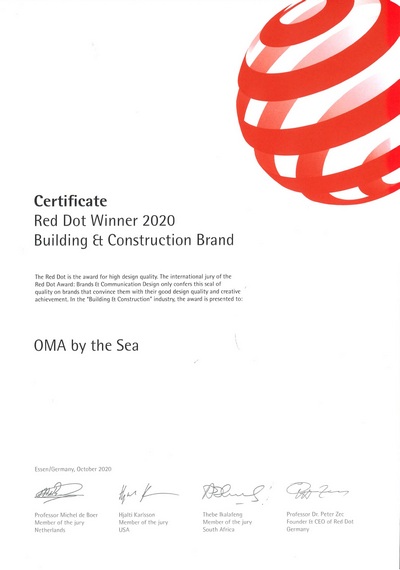 Against this background, a brand identity was developed that fundamentally differs from projects that are primarily aimed at mature investors and therefore want to convey trustworthiness through photos showing attractive people in luxuriously furnished surroundings. Instead, the unique selling proposition of this project – the location surrounded by sea and greenery – is placed centre stage in the brand image.
Powerful and colourful illustrations are thus used on billboards and buses, in advertisements and in print media, as well as on the internet, all showing people who do sports and animals such as seals, otters and dolphins in relaxed poses on the beach and in the midst of nature, set against a bright yellow background. Together with the slogan "Let's chill", this creates a strong contrast to the typical advertising of other Hong Kong residential properties, which are always located within the city and focus on luxury and a cosmopolitan lifestyle.
Unusual for the industry, the imagery of OMA by the Sea thus attracts attention and piques curiosity. Buses were specifically chosen as advertising media, as they drive around Hong Kong's bustling Tsuen Wan and Tuen Mun Districts, as well as in the city centre where the young target group lives and works.
The use of this playful illustration style in all marketing materials, including an animated short film, has resulted in a strong synergetic effect that strengthens the advertising message across the various touchpoints of the brand. Ultimately, 210 of the total of 268 units were sold on the first day the sales office opened.
Most of the buyers are millennials, more than half of them between 26 and 35 years old.
Credits
Company: Wing Tai Properties Limited
Founding Year:1991
Lead Agency: MRPAUL & PARTNERS Hong Kong
Number of Employees: 470
Claim: We don't just build, we craft
Red Dot Awards: 2020