Five of the Spanish manufacturer's tower cranes will team up to tackle the redevelopment of the Spanish club's Vicente Calderón stadium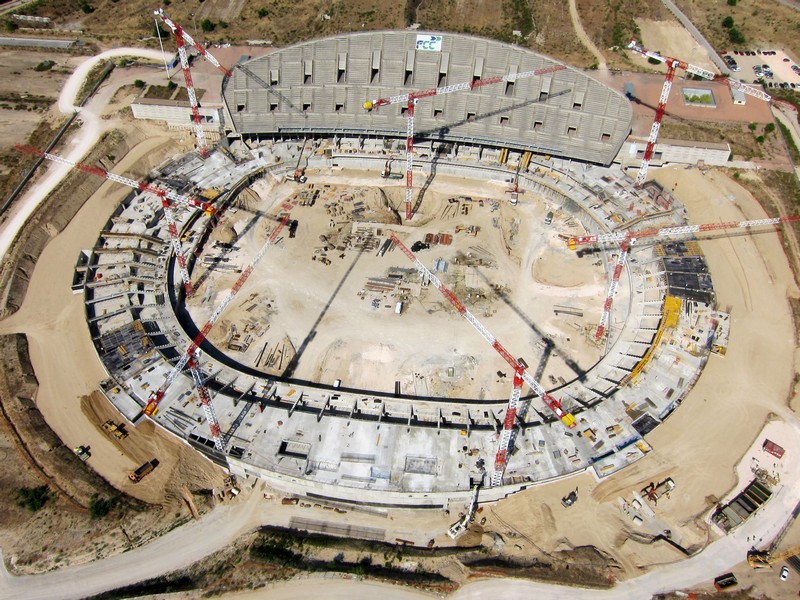 Five Linden Comansa tower cranes have been in operation as part of the renovation and expansion of Atlético de Madrid football club's Vicente Calderón stadium in Madrid, Spain. The team's home since 1966, the venue will soon be able to host capacity crowds of approximately 68,000 spectators, 13,000 more than previously possible.
Yet to be officially renamed, the new stadium has been under construction since 2011, with three model LC2074 and two 21LC290 Linden Comansa tower cranes installed at the site since July 2013. Owned by Linden Comansa's official dealer Grúas y Maquinaria S.A (GRUYMSA) and rented to construction firm FCC, the cranes have been predominantly used in preparing the foundations of the stands which now enclose the stadium.The redevelopment builds upon the original grounds and large single stand which once played host to events at the 1994 Madrid Olympics, and will incorporate improved facilities and services for fans, including redesigned seating and an increased number of parking spaces.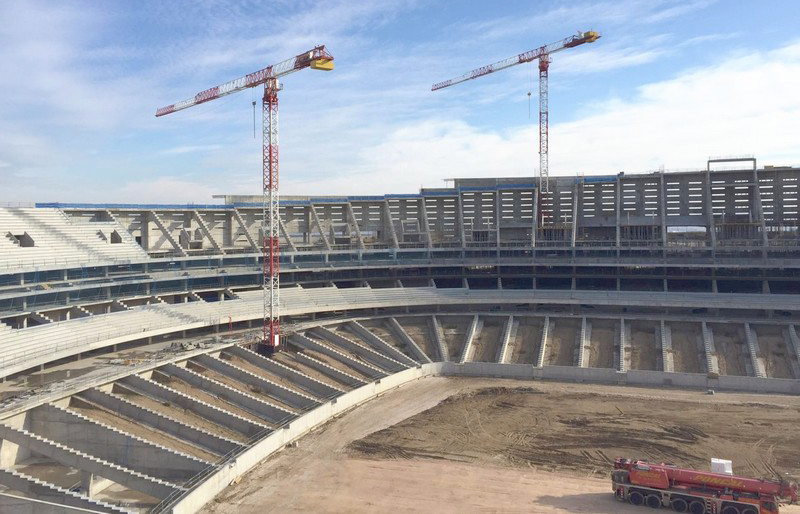 Due to the venue's proximity to the Adolfo Suárez Madrid-Barajas International Airport, the cranes were not initially able to be installed at their full heights. Upon receiving special permission from the Spanish Aviation Safety and Security Agency however, the cranes were then extended to range from 52.1 metres to 69.6 metres in length, each boasting a maximum load capacity of almost 11,000 kilograms.
Four of GRUYMSA's Linden Comansa tower cranes in operation at the Vicente Calderón site, as well as two others from FCC's machinery park, have already completed their parts of the project and have recently been dismantled, with the only remaining Linden Comansa 21LC290 tower crane soon to follow. Workers at the site will then begin construction of the stadium's overhanging roof, which upon completion will cover up to 96 per cent of the stands, allowing both home and away fans to attend games whilst protected from inclement weather.
With a rental fleet of more than 250 Linden Comansa tower cranes, GRUYMSA has played a key role in a range of construction projects across the Spanish capital, including works on the Reine Sofia Museum, the Torre de Cristal tower and Terminal 4 at the Barajas International Airport.
Text: Joe Wyatt