(17 October 2023, Hong Kong) Schneider Electric, the leader in the digital transformation of energy management and automation, yesterday concluded the 2023 edition of Innovation Summit Hong Kong with a passionate call for increased digitization, electrification, and innovative partnerships for a smarter and more sustainable future, which drew nearly 800 attendees.
This year's summit featured a distinguished line-up of more than 30 industry changemakers, as well as strategic partnerships with the Business Environment Council, the Hong Kong Green Building Council, and the International Facility Management Association Hong Kong Chapter, contributing to a thought-provoking agenda uncovering the power of digital technologies and collaboration in the city's sustainability transition.
The event was made more impactful with a new partnership with Friends of the Earth (HK) to plant one tree on behalf of each in-person attendee in Hong Kong in 2024.
"Our climate challenge is one which goes beyond the capabilities of individual companies, industries, and geographies," said Jonathan Chiu, President of Schneider Electric Hong Kong. "Collaborations are key to ensuring that our efforts create meaningful impact. The curation of this year's event embodied the essence of this belief, by convening business leaders and sustainability practitioners spanning multiple industries and sectors to exchange on the disruptions needed for delivering a more sustainable future."
The conference line-up was amongst the highlights of this year's summit, with speaker representatives from Schneider Electric, CLP Power Hong Kong, MTR Corporation, Henderson Land, Swire Properties, Sino Land, Airport Authority Hong Kong, Hong Kong-Shenzhen Innovation and Technology Park, Hong Kong University of Science and Technology, and more sharing insights on:
Digital x Electric: Turbocharging Hong Kong's Sustainability Agenda
Leading Our Charge Towards a Net-Zero Future
From Strength to Strength: Hong Kong as a Green Tech and Innovation Hub
For People and Planet: Sustainability at the Heart of Our Digital Experience
Sustainability Benchmarks: A Common Language for Building Performance & Efficiency
All In On Digital: Harnessing PropTech for Facilities Management
Spearheading the Era of Sustainable Data Centers
In parallel to the main stage, Schneider Electric hosted a Talent Talk for university students in attendance – with a focus on building a talent pipeline prepared to take up the baton for the city's sustainability ambitions – as well as an Industry Exchange with interior designers and architects on "Smart Homes and Offices: From Convenience to Necessity – The Impact of Technology on the Future of Living" in partnership with BCI Central.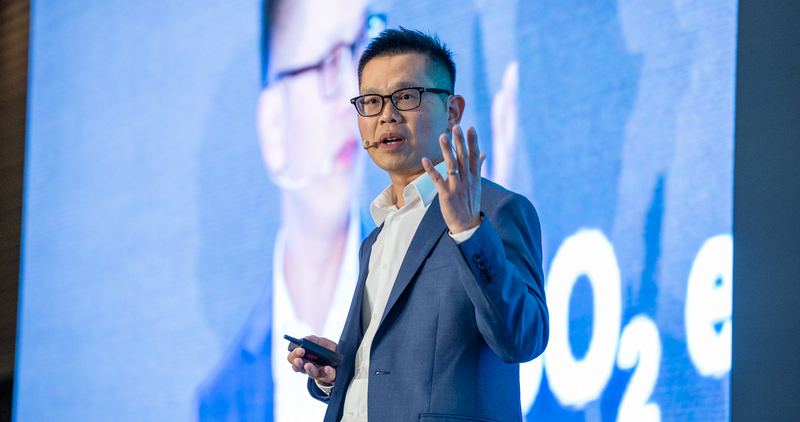 Giving back to our environment
Amongst the event's green initiatives is Schneider Electric's commitment to plant one tree on behalf of each in-person attendee in Hong Kong's country parks in partnership with Friends of the Earth (HK), a charitable organization conducting policy advocacy, green finance, urban forestry, and community programs in Hong Kong.
"We are thrilled to be collaborating with Schneider Electric to rejuvenate Hong Kong's woodlands and promote local biodiversity. Our partnership is a prime example of how we can join hands to empower our ecosystems, and deliver long-term positive impacts for our environment," said Dr. Jeffrey Hung, Chief Executive Officer of Friends of the Earth (HK).
"We're excited to be giving back to our environment via this ambitious and meaningful initiative with Friends of the Earth (HK). Thank you to all who attended Innovation Summit Hong Kong 2023 and being part of our sustainability journey," said Jonathan Chiu, President of Schneider Electric Hong Kong. In addition, to encourage low-carbon transportation to and from the event venue, Schneider Electric partnered with social innovation venture Carbon Wallet to offer 2 complimentary MTR tickets for each in-person attendee of the event.