Holz Selections, the wholesaler and retailer of timber construction materials in Hong Kong, officially reopened their extensively remodelled Schotten & Hansen showroom with a celebratory event held on a sizzling hot Friday night, co-organised by ROF Media on 3 August.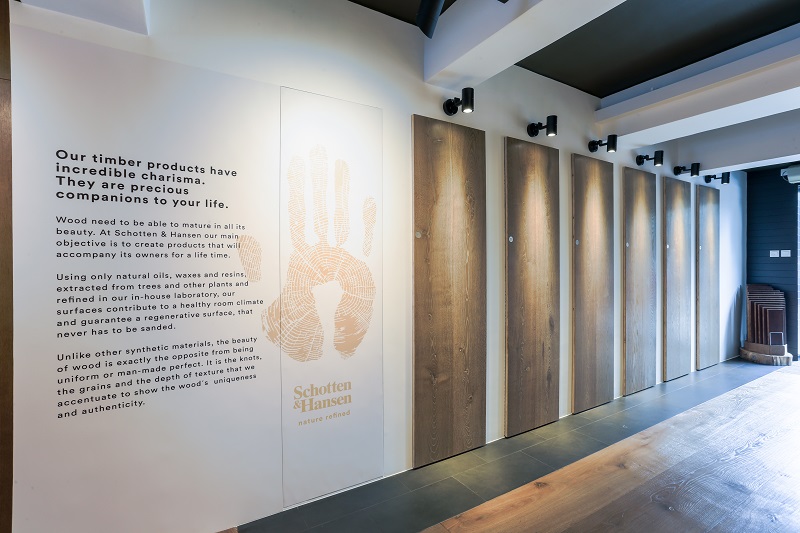 Located on 220 Gloucester Road in Wanchai, the uber-modern ground floor showroom features a selection of carefully curated brand-specific materials and bespoke surfaces and was designed by award-winning New Zealand architect Eqo Leung of ARCHITECTUREPUBLIC.
The minimalist contemporary décor embodies the values integral to the luxury German brand: heritage, craftsmanship, top quality material and attention to detail.
At the front of the space and guiding the view of passers-by directly into and through to the rear of showroom a fully functional acoustic cubeon the inside, is an integral product demonstration and meeting room and the main design feature.
On the exterior the cube is framed in black frame and contains a perfectly square, simple LED light feature which at night can be set on a clear bright white or to flow through a simple palette of shocking pink, deep a zure or electric blue, sure to be the talk of the town since opening.
"Meet the Masters" presentation
Under the theme "Meet the Masters," Torben Hansen, founder of Schotten & Hansen, an artisanal manufacturer of wooden floors and interiors, and a long-term collaborator, artist and renowned furniture designer, Stefan Knopp, in Hong Kong for the firt time, presented their unique way of working with wood, watched on by Ewa Leung, owner and proprietor of Holz Selections, and up to 80 selected guests.
Hansen showed how to use pigments to make fine wood structures more visible and how the Schotten & Hansen finish can provide unique protection to these unique pieces during the demonstration.
"Here at our showroom, we are able to show customers that wood is a lasting material, if maintained correctly. In France, Belgium and Germany, there are lots of old hotels and restaurants that still have their original wood floorings intact from over a hundred years ago," said Hansen.
However, he noted that most customers in Hong Kong are, "timid about using wood, especially in commercial properties, citing concerns over the durability of this material. He clarified that wood can be easily maintained and cleaned simply with water and soap.
High-end timber material brand
Ewa Leung also dismissed these concerns about wood materials. "Especially with Schotten & Hansen products, you don't have to worry because its manufacturing process and maintenance regime
are so special t hat t hey make hand- crafted timber extremely popular in luxurious residences and in this regard Hong Kong's demand for timber in some of the city's most expensive properties is in line with Europe and North America where the best timbers are seen as the obvious choice in residential properties at the mid to upper segment of the market.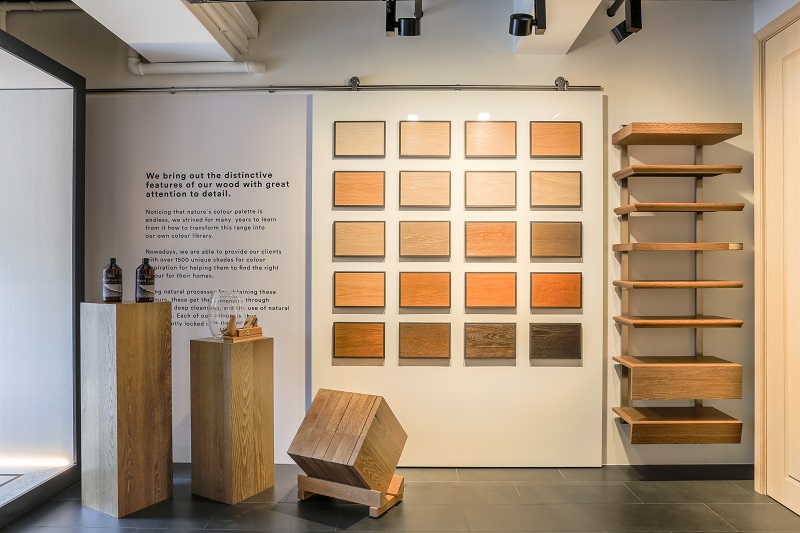 However Schotten & Hansen's timber is used in high traffic areas such as airports particularly in Europe and the Middle East , in hotels of every star rating, commercial offices that seek either a highly durable material or equally a luxury product that they can boast to their clients, and exclusive retail outlets in markets such as USA, Scandanavia, Germany, Spain, Italy and in the United Kingdom which h as been one of t he main markets for almost 2 0 years," she boasted proudly.
Holz Selections carries a wide selection of these high-end timberbased materials and Leung encourages customers to visit its newly renovated showroom, "to touch the products and feel their textures," which she equates to being similar to the experience of"running your fingers across the finest silk."
The German brand is famous for t heir highly distinctive wooden floorings, high-quality parquet, custom interior designs and a range of bespoke products from staircases to doors, acoustic applications and Milano tables.
Bringing nature back to homes
During the "Meet the Masters" segment, Stefan Knopp, a celebrated Austrian craftsman, showcased an ancient Asian charred treatment and preservation technique for wood never seen before in Hong Kong. Demonstrating on two bowls and on a small side table, he showed how furniture could be refined with a combustion process.
The wood is charred with a burner to bring out the lifelines of trees. The wood's natural grain is not only preserved, but brought out even more through surface finishing. This results in unique pieces to win over customers with their original look, including natural lines, cracks and edges. As a veteran wood artist, Knopp has been experimenting with the creative possibilities of colour and materials for more than two decades.
"I can see the wonderful stories of trees in the wood items I craft," he said.