A bank building that redefines how its employees interact stole the limelight at the 2014 New Zealand Architecture Awards.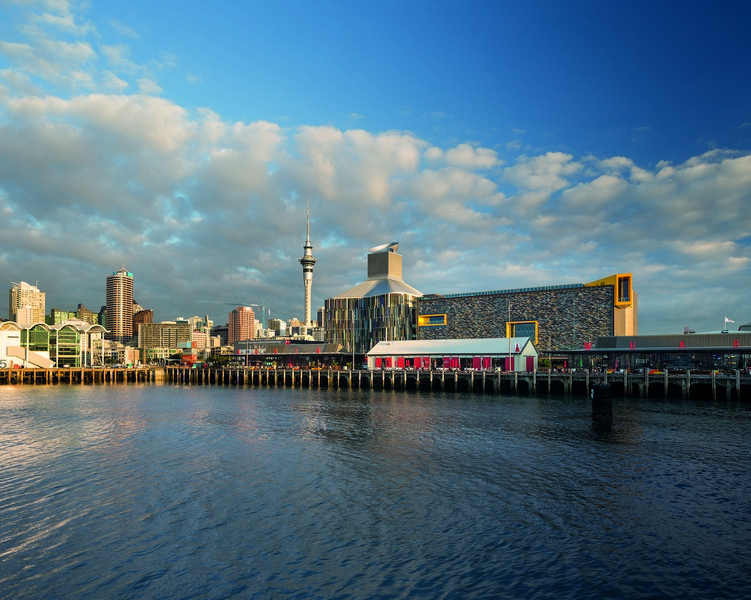 ASB North Wharf, designed by BVN Donovan Hill and Jasmax, was the big winner at the annual gathering of the New Zealand Institute of Architects. New Zealand's best and brightest in the field celebrated the four awards won by BVN Donovan Hill and Jasmax.
Other projects hailed at the celebratory dinner in Auckland included an airport terminal, several types of housing, a pavilion at an overseas exhibition and structures at three different educational establishments.
It was ASB North Wharf, a bank on Auckland's waterfront, which earned the top prize, the New Zealand Architecture medal. It also garnered accolades in three other categories –interior architecture, commercial architecture and sustainability. The seven-storey office block consists of two buildings joined by a glazed multi-level walkway over a central public lane.
The workplace is based on a village concept with themed "neighbourhoods" and a range of communal spaces to provide staff with a choice of work settings.
ASB are projecting energy savings of up to 50 per cent as the design cuts back on air-conditioning in favour of daylight and fresh air.
A bright future
Cross ventilation is achieved by fresh air from the open windows in the façade being drawn up into the top of the building through a unique funnel. The funnel and light reflector on the building's roof capture and reflect natural light deep into the building.
"In a sense the building is a working lung," said the four–person awards panel, led by Richard Naish.
"It is a totally integrated project – an architectural realisation of a workplace philosophy, an exemplar of environmentally sustainable design and a contextually aware presence in a new maritime environment.
"Banking is traditionally a business in which people know their place and keep to it. At ASB North Wharf, employees are encouraged to find their place and use it for a particular time or task. The result is an exuberant workplace with a variety of spaces for big and small meetings, private work and social interaction. In ASB North Wharf we may be seeing the future of office work."
The cross-Tasman collaborative success story of Australian firm BVN Donovan Hill and New Zealand counterparts Jasmax also partnered on one of the ceremony's three other multiple-awarded projects – the Regional Terminal at Christchurch Airport, which won in commercial architecture and interior architecture.
The panel described the terminal as "a delightful modern building that, with its casual intimacy, easy connection to the runway, and big views of airport activity tips its wing to the memory of the traditional New Zealand regional air terminal".
Jasmax were multiple winners in their own right for their work on the Sir Paul Reeves Building at Auckland University of Technology (AUT), which was awarded in both the education and urban design and planning categories.
"Materials are robust and not extravagant, but the building never feels cheap," the jury said. "In the Sir Paul Reeves Building, AUT's students will feel valued."
Learning to win
Two other seats of learning were also on the honour roll.
Massey University's Te Ara Hihiko–College of Creative Arts in Wellington was a double winner, picking up in the education and sustainability categories for Athfield Architects. The jury said the building is a "well-resolved machine for learning",   incorporating innovative seismic technology.
An upgrade to the Victoria University of Wellington Campus Hub and Library earned an education category nod for a joint effort by Architectus and Athfield Architects. The jury acknowledged it as an "exemplary project, tightly resolved on many levels, from campus planning to construction detailing" which "transforms wasted space into a real place".
In the housing category, awardees spanned a range of accommodations from luxury to apartments.
Among the firms feeling house-proud were Fearon Hay Architects, who were awarded for Dune House in Omaha, 75 kilometres north of Auckland. "Domestic luxury cohabits harmoniously with natural beauty in this sophisticated and highly polished holiday house, a sanctuary in its suburban beach setting," the jury said.
Stevens Lawson Architects were honoured for Headland House, on Waiheke Island in the Hauraki Gulf near Auckland. "The architecture is both dramatic and hospitable," the jury said. "The combination of formal and informal spaces makes for a relaxed retreat."
At the other end of the housing spectrum, an award went to Wellington City Council's Central Park Apartments, a social housing complex which was transformed by Novak + Middleton. "The strategy of fragmenting the apartment complex into smaller clusters has dramatically improved the apartments' safety, seismic performance and circulation, and has promoted a sense of community," the jury said.
Houses were also acknowledged outside the specific housing category as an architect's own holiday home won an award in the Small Project category. Bossley Architects' Arruba Bach, near Waiuku, 40 kilometres southwest of Auckland city centre, is a brightly coloured box nestled among pohutukawa trees.
A bach (pronounced "batch") is a holiday home in New Zealand.  "Delightful in itself, the red box is a sophisticated response to context and typological precedent," the jury said.
A somewhat less conventional choice won the international architecture category, which went to the New Zealand Guest of Honour Pavilion at the 2013 Frankfurt Book Fair, designed by Patterson Associates and Inside Out Productions. The jury said the pavilion was "a refreshing take on exposition architecture".
For more information, please visit www.nzia.co.nz