While flying over Manila, Arquitectonica's managing director in Asia and the Middle East, Peter Brannan, was struck by a unique idea. The dense clustering of buildings, crowded streets and frenetic pace represented familiar challenges for an architect whose charge is designing spaces in Asian cities. Of course, limited landmass in dense urban environments tends to additionally indicate an area lacking green space.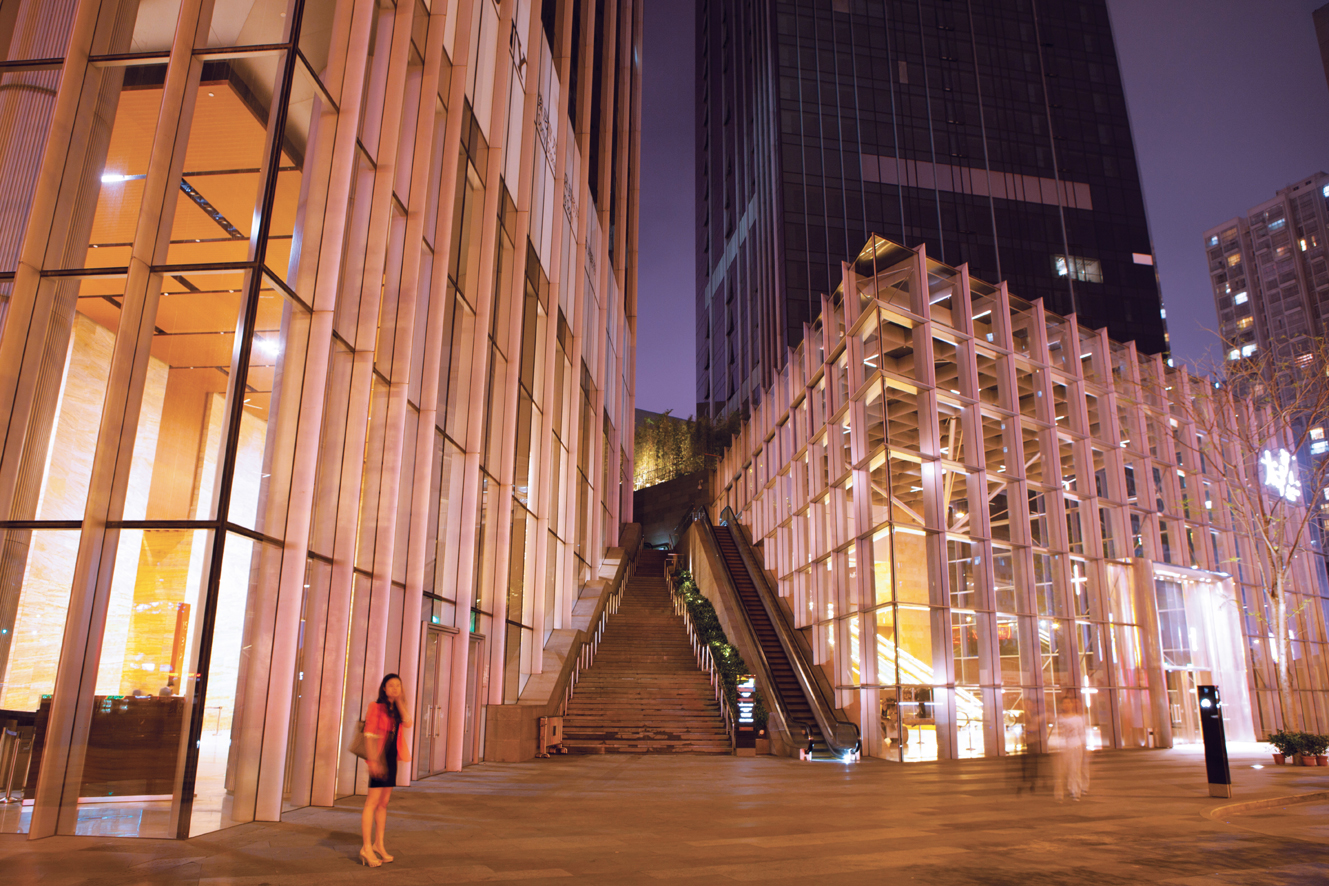 However, all urban environments have a clustering of large open spaces that have seldom been utilised for anything other than building services and machinery. These flat, large and often sprawling spaces are located on the roofs of many buildings in the city. Thus, an idea was borne; what would be the impact on a building, its services and the city it inhabits, if the roof could be transformed from a concrete slab into a destination? Through careful implementation of this idea, the architects and designers at Arquitectonica have, quite literally, turned the way we think about retail and green spaces in cities, upside down.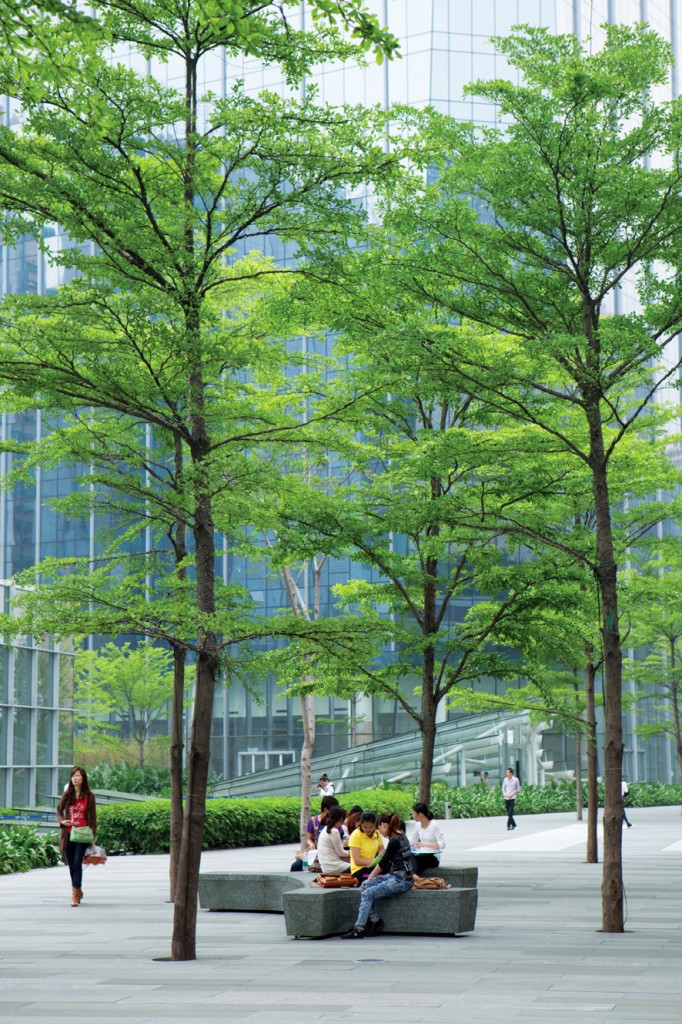 Brannan expounds, "We were working on a retail building for a developer in the Philippines. The building was roughly 400,000 square metres, so the roof was 20 hectares. In terms of playing fields; that is 30-35 fields. I flew over the site in a helicopter and thought this is a great opportunity to create a real destination."
Typically, Asian shopping malls have three or four floors with car parking in the basement and mechanical infrastructure on the roof. Thus, in direct relation to average foot traffic, the most expensive real estate is located on the ground floor. In countries that have more open space, like the United States and Australia, developers have created sprawling single-floor shopping complexes to combat this dilemma; however, most Asian cities do not have this luxury. In an effort to drive foot traffic up through the building, developers in Asian cities have traditionally filled their top floors with food courts, cinemas and game zones, the idea being that these types of business will drive traffic through the less desirable levels, increasing the market value of the space.
With knowledge of these architectural best practices, Arquitectonica set out to create a new type of destination; roof top parks or as they have coined, "living roofs".
Brannan explains the cultural need for this type of space. "In dense urban cities there is very little public space. You can't go for lunch in Central Park as in New York. Why not create a park and encourage families to come. We could include some restaurants, but let's make it mostly open space. If you look at Pacific Place in Hong Kong, it is an upside down mall in that all the high end shopping is on the top floor. That is because located above the shopping mall are five star hotels, office towers and luxury residential components."
The impact on real estate is not limited to the increase value of retail space within the mall. Rather, the impact is seen on all buildings overlooking the living roofs. For example, while the typical office building overlooks other buildings and streets, the buildings in these complexes overlook a park. With the exception of buildings that view water, the most valuable real estate in the world features park views. The designers of these roof top green spaces have cleverly created man-made parks, thus increasing the value of all spaces that overlook it. In doing so, they have created their own "Central Park" and have increased the value of their real estate.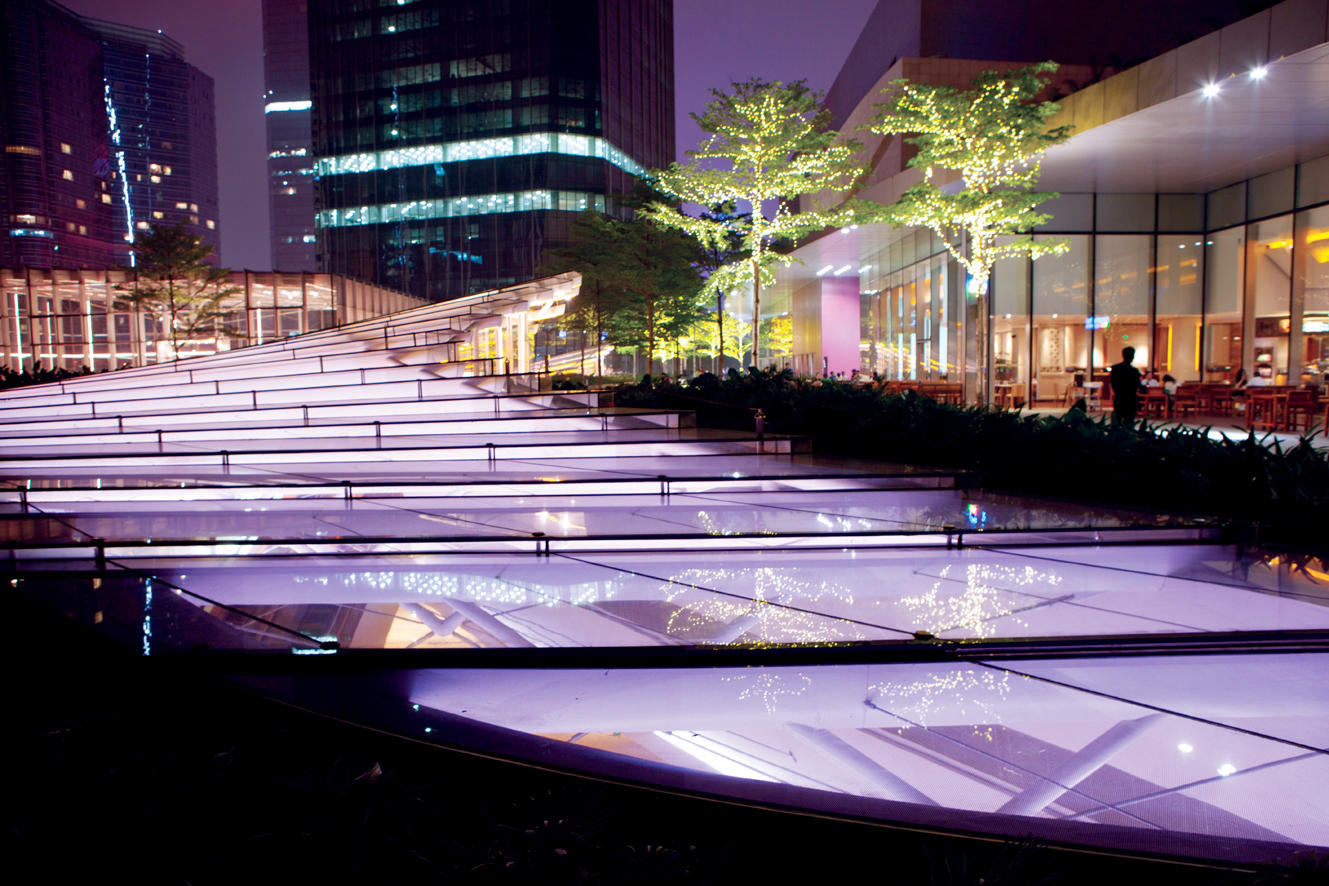 In addition to the space being fiscally sustainable it also has a conspicuously positive environmental impact. Beyond the obvious advantages of increasing the amount of greenery in cities, there are many other environmentally positive effects. Typically, concrete rooftops reflect sunlight and heat. In the summer months these intense reflections can lead to higher costs and carbon usage in the buildings they shelter.
Additionally, heat reflected off the roof increases the stress on cooling systems in the buildings they surround. However, the gardens, plant life and soil on these roofs absorb additional heat and light, which decreases the pressure on air conditioning systems in all surrounding buildings.
Rooftop gardens or "living roofs" also slow water retention and relieve stress on a city's sewer system. Water retained can improve cooling cost and be utilized to maintain the garden or purified for use in the building. The garden can be cared for using waste composted from its building, which will decrease pressure on the cities landfills.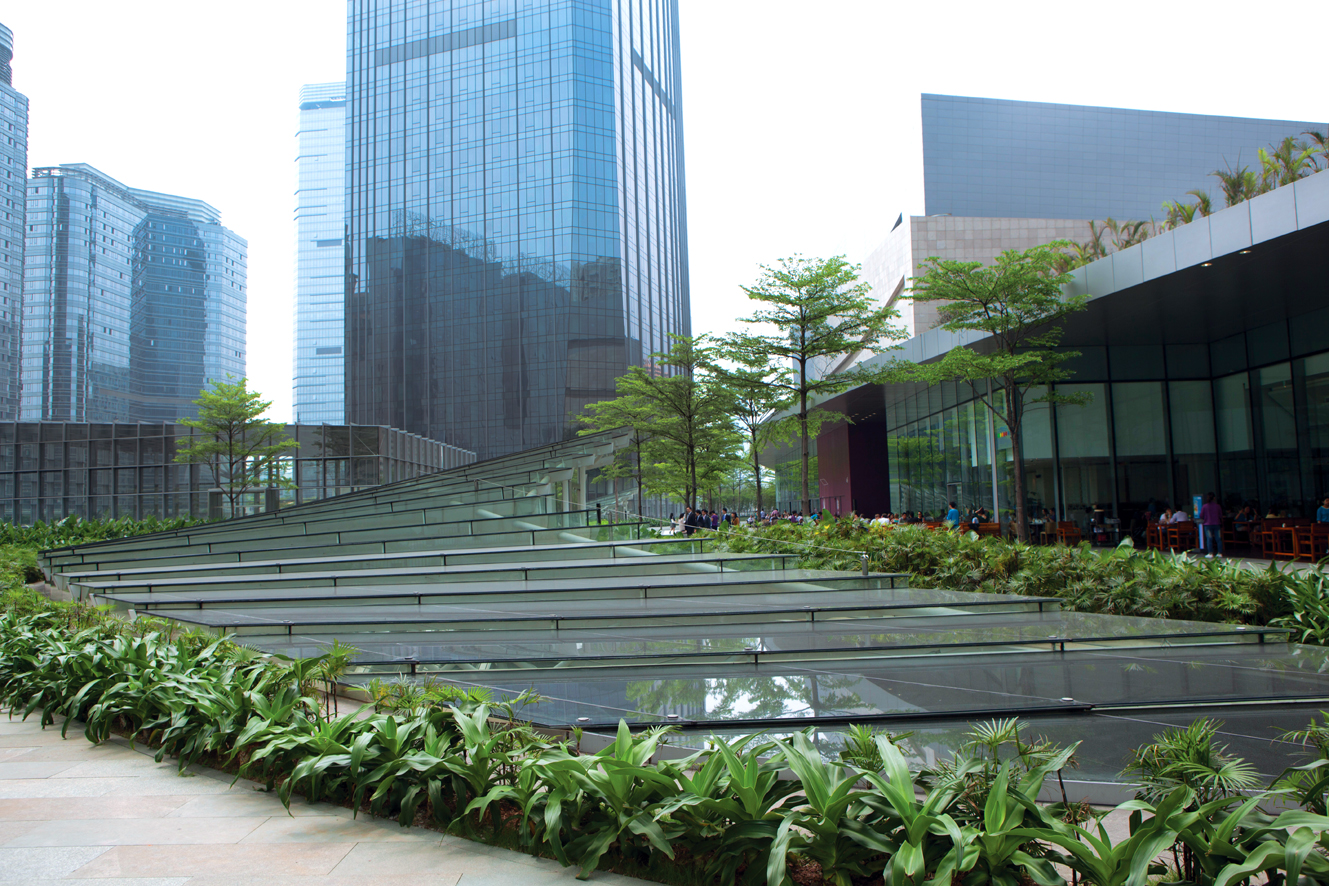 Taikoo Hui in Guangzhou is the most recent incarnation of this ground breaking idea. In collaboration with developer Swire Properties, Arquitectonica is pleased to be completing the final phases of this mixed-use development. The site comprises two office buildings, a shopping mall, a new Mandarin Oriental Hotel and a regional cultural centre. One of the office buildings will be occupied mainly by HSBC, while another will feature Sony's first trademark store in Guangzhou. The buildings are united by a beautiful roof top public garden.
The garden features local fauna and a number of themed restaurants.  The podium garden, raised three storeys from the ground, creates a connection between the inside and outside environment. A spectacular sculptural skylight provides an interesting architectural element, while emitting plentiful natural light to all floors of the shopping mall below. A consistent design palate is maintained inside and outside to create a smooth and connected environment on all levels.
However, the impact on retail and environment are just the beginning of envisioning how these abundant spaces can be utilised. In Singapore, public officials have begun researching space for urban green architecture and they have found that the most prominent place it can be found is on the roofs of hospitals and schools. Thanks to this innovation from Arquitectonica, we can now imagine a roof top garden for recovering patients in hospitals and/or green space for children in urban schools to enjoy recess or biology projects.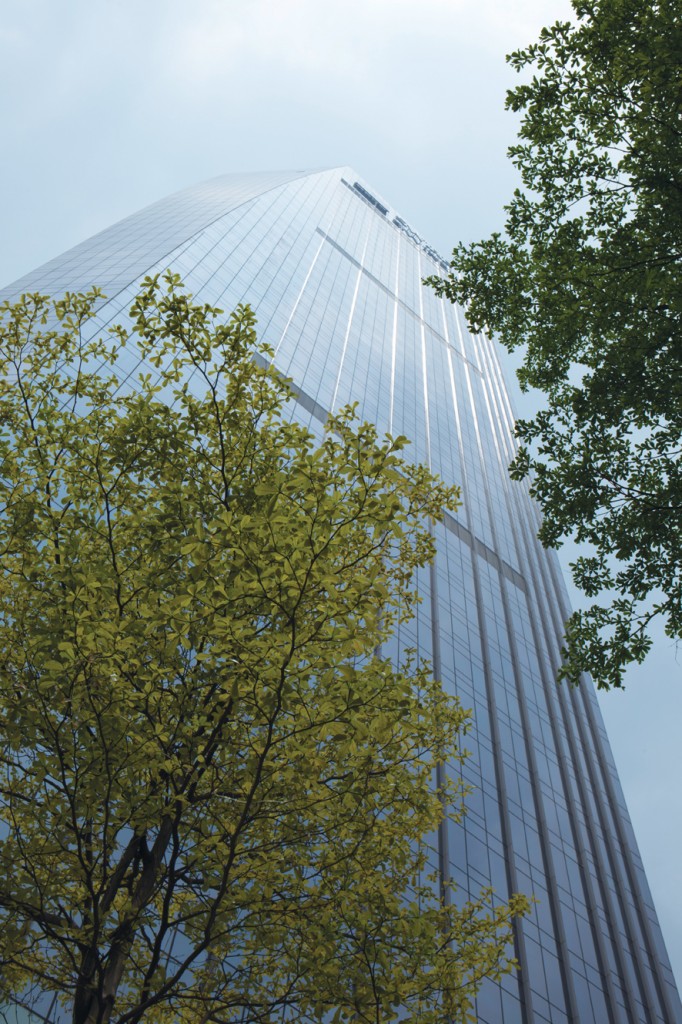 Developers, architects and city planners can use this space to satisfy particular cultural needs. For example, there is farmland near the Taal Volcano in Manila, where small strips of land are rented to Manila residents who, in turn, use this earth to plant herbs and vegetables.  After planting and cultivating their tiny "farms", the growers bring their products back to town for consumption and sale in local markets.
As the public becomes more discerning in terms of where their food comes from, it is likely that there will be an increased need for growing within cities. The architects at Arquitectonica have hypothesised that urban roofs could be a potential place for this type of urban agriculture.
Brannan states, "More and more, people are becoming interested in where their food comes from. They are talking about vertical farms where you can get your vegetables on the same city block they were grown. The product is not trucked down from Vermont on a bed of diesel fumes. We are trying to change the mentality; we are trying to reach out to people. The more accessible and available we can provide that little reprieve, that little piece of mind for people, the better shape our society will be in. There is no reason why we can't do that."
One such example of a similar Arquitectonica designed property that has experienced remarkable success is the SM City North EDSA shopping mall. Using the argument of commercial sustainability the architects were able to convince developers to create a connection that would both shade cars from the brutal Manila sun and create logical traffic flow into the complex. The greenscape above the parking garage was filled with 55 species of mostly-native trees, bushes, flowers and grass. The garden is designed to thrive in its climate and can subsist primarily on runoff water. Sitting areas and playgrounds for children were included as well as cafes and restaurants. The space was completed two years ago and was so successful in its initial phase that the management had to keep the area open twenty-four hours a day to service the increased foot traffic.
Originally founded in Miami, Florida in 1977 as an experimental studio by four young architects, Arquitectonica has enjoyed business success in Asia since 1995. A notable Arquitectonica designed building, the Atlantis, was featured in the opening credits of the cult-classic American television show Miami Vice. The firm was invited by Swire Properties to begin work on Festival Walk in Hong Kong and has maintained a presence in Asia since. At the moment, Arquitectonica has practices across the United States directed from their regional offices in Miami, New York and Los Angeles. Arquitectonica's international practice is supported by European offices in Paris; Asian regional offices in Hong Kong, Shanghai and Manila; Middle Eastern regional office in Dubai and South American regional offices in Lima and Sao Paulo. Arquitectonica has thrived by combining the creative spirit of principals with the efficiency of delivery and reliability of a major architectural firm.
The possibilities for this type of design are endless. Consistent with their history and philosophy, Arquitectonica was on the cutting edge of this innovation.
For more information on Arquitectonica please visit www.arquitectonica.com