Globally famous designer, Cesar Ritz, summed it up perfectly last century when he stated that the success of any new building hinged on one thing, "location, location, location". And new 28-storey Swire Properties development, 28 Hennessy Road, has certainly hit the mark, occupying a site at the very heart of one of Hong Kong's most dynamic and exciting districts. 
Completed in Q4 2012, 28 Hennessy Road is a new Grade-A building located in close proximity to retail mecca, Pacific Place, and the vibrant Star Street precinct with its diversified range of dining outlets and individual upmarket retail outlets, guaranteeing that tenants can enjoy the various neighbourhood amenities established over the years for which this diverse precinct is increasingly renowned. This attraction is a unique highlight of the building's location and one that will appeal to prospective tenants.
Situated a convenient short two-minute walk from Three Pacific Place and with direct access to Admiralty MTR station also promotes a quick and convenient commute for tenants and visitors to 28 Hennessy Road. Car parking is available at Three Pacific Place.
The floor to ceiling height provides typical clear headroom of 2.85 metres on most floors, which is further enhanced to 3.4 metres on the top two office floors. The suspended ceiling system comprises suspended metal ceiling tiles (600 mm x 600 mm panels with sound absorbent material) and integrated lighting with air-conditioning outlets set in a modular layout. Concealed type sprinkler heads are also included.
The building also features a computerised fire detection system that can be extended to tenants' computer rooms. Premises are also monitored on a 24-hour basis by a digital security surveillance system which covers all major access and exit points.
Sustainable design
Achieving BEAM (Building Environmental Assessment Method) 'Platinum' rating certification, 28 Hennessy Road incorporates a number of key green features that promote sustainability within this modern working environment.
Equipped with a low-emitting, double-glazed curtain wall system, 650mm window sill to reduce heat transmission, and highly reflective light fittings for energy savings on office floors, these sustainable features perfectly complement the comfortable daylight working environment that tenants enjoy. The provision of a frictionless oil-free chiller also ensures both efficiency and quiet operations around the clock. A rainwater and air-conditioning condensation recycling system for flushing water has also been adopted.

Another green highlight is the unique landscaped 'sky' garden located on the second floor, which serves as a relaxing and tranquil zone for leisure and enjoyment.  The inclusion of a computer room cooling is also a major drawcard for current and future tenants.
Swire Properties is committed to ensuring that environmental considerations are an integral part of the decision making, management and operations process and a stringent environmental policy was adopted pre-construction in the design phase of the building. For example, hydraulic crushers were used during the demolition of original building in order to minimise noise and vibration and any possible impact that noise pollution may have in the surrounding neighbourhood. Metal formwork was also used during construction in order to reduce the consumption and wastage of valuable timber resources.

Building Information Modelling (BIM) was also employed in a sophisticated manner, which promoted swift and accurate comparisons of different design options in order to develop more efficient, cost-effective and sustainable solutions.  BIM also enabled the developer to monitor the construction programme in a timely and eco-friendly manner.
An automated building management system monitors and supervises all fire, lift and safety services and also controls lighting in public areas and adjusts air-conditioning temperatures to ensure environmental comfort and safety at all times, whilst also maintaining energy efficiency.
Lighting within the building comprises fully recessed 600mm x 600mm innovative direct and indirect luminaires with T5 fluorescent tubes and electronic ballasts allowing for desktop illumination of approximately 500 lux in an energy-efficient manner. There is additional flexibility to set the lux level at different intensities to reduce glare and to achieve energy savings and environmental objectives.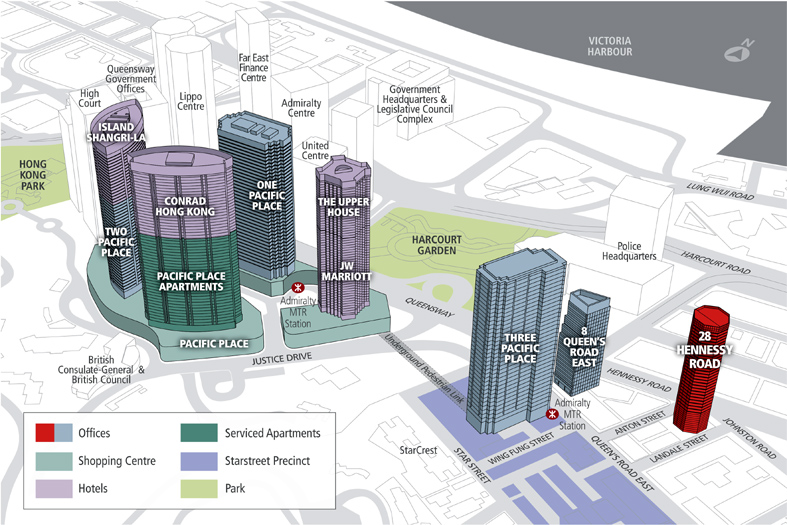 The building also incorporates a dedicated 24-hour chilled-water supply fed by chillers with a total cooling capacity of 100TR. All chillers use environmentally friendly R134a refrigerant and connections to the system on each floor also enable tenants to cool their computer and data rooms. The chilled water supply is supported by the landlord's essential power system.
Last but not least, the introduction of a carbon audit measuring the carbon footprint of major building construction elements in relation to 28 Hennessy Road was an advanced approach for the local construction industry and set a higher level of green construction measurements in Hong Kong.
Interior design elements
It is the interior, or heart, of any building that defines its appeal to prospective tenants and visitors. Serviced by four (1,800 kg) high-speed passenger lifts, the interiors of 28 Hennessy have been tastefully bathed in neutral tones.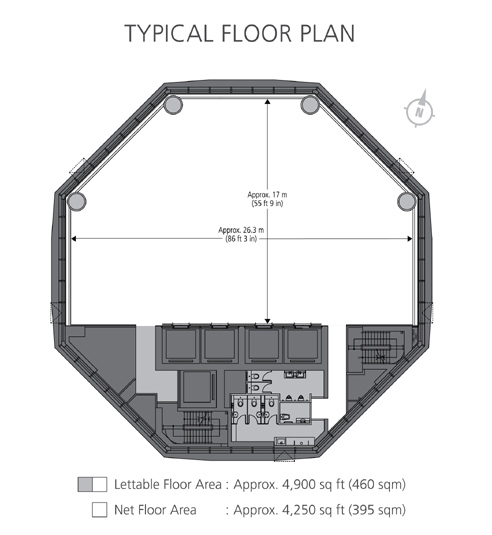 The main lift lobby and the 'sky' garden lobby are finished with natural stone flooring and a feature wall of backlit marble. The stone wall in podium area, including G/F, 1/F and 'sky' garden, is made of marble, the colour tone of which is called "jazz white marble".
This is perfectly complimented by the antiqued, solid bronze balustrade which frames the luxurious curved staircase which rises elegantly between the lift lobby and the 'sky' garden. The bronze staircase was antiqued by renowned manufacturer Double Stone Steel.
Construction challenges
The location of 28 Hennessy Road did, however, present challenges during the construction phase, not least because of high-traffic location in Wanchai, one of the busiest districts of Hong Kong.
Regular evaluations in relation to traffic impact were conducted by the Swire traffic consultant in conjunction with governmental departments, such as the Transport Department, to ensure the smooth operation and flow of construction logistics.
An environmentally-friendly building, 28 Hennessy Road confirms the commitment of Swire Properties to green and sustainable building practices and its carbon footprint reduction both during the construction phase and for the life of the building.