Sustainability in the retail industry has become a hot topic, especially in Asia. At BEE, from our vantage as an industry leader, we have seen a recent growth of interest in healthy buildings, energy consumption and circularity. These trends are apparent given the number of retailers participating in the different sustainability programs currently available on the market.
(按此瀏覽中文版)
Fashion brands are investing heavily in a greener footprint. According to a report from the Retail Industry Leaders Association, 93% of global consumers expect brands they use to support social and environmental issues. Green building certifications help brands to set themselves apart from their competitors. Achieving LEED certification is becoming a priority for fashion brands, giving them a way to satisfy and connect with their progressive customer base. For instance, the number of LEED certified retail projects in Asia has passed the 1,200 mark, increasing from 808 certified projects in 2020 to 1,222 certified projects so far in 2021. That means LEED is the most widely used green building rating system in the world. As the world's most experienced green building consultancy in retail, we have a dedicated team to support our retail clients. Called BEE Retail, they have completed more than 329 retail projects comprising over 10 million square feet across 28 countries. We expect these numbers to rise exponentially over the new few years.
Health and well-being in retail
Businesses and individuals are increasingly looking for healthy spaces that prioritize environmental impacts on human health and well-being, especially after COVID-19. As one of the first WELL Enterprise Providers in the world, BEE have seen how retailers are increasingly seeking to boost stakeholders' confidence by acquiring health and well-being certifications, such as WELL certification. In fact, at the beginning of 2021, the International WELL Building Institute (IWBI) announced that spaces enrolled in their WELL Health-Safety Rating program have crossed the one billion square foot mark. This milestone was achieved in just nine months. WELL certified buildings meet stringent requirements for indoor air quality, water quality and thermal comfort. They must be well designed from an engineering standpoint, while promoting a healthy lifestyle among occupants.
The fashion industry is responsible for up to 10% of greenhouse gas emissions, and an estimated 92 million tons of waste per year. Retailers are responding seriously to consumers' demand that brands use more sustainable products. For example, the first zero waste certification program – TRUE – which is dedicated to measuring, improving, and recognizing zero waste performance, has already surpassed 200 certified projects and is being adopted by more and more brands. BEE has recently Certified South Korea's first TRUE project and we continue to experience growth in the number of retail clients asking us for help implementing waste management strategies. TRUE projects help reducing environmental impacts by closing the loop on waste, since facilities need to prove a minimum of 90 percent waste diversion. Moreover, this rating system enables a facility or company to understand, track and improve how waste is being managed and how to improve their procurement process to reduce inefficiencies and costs.
Case study 1: LEED vs non-LEED retail projects
As consultants, we are often asked about the benefits of getting a project Certified. To answer this question, we conducted a comprehensive study using BEE Sense – our cloud-based, real-time, integrated building management platform – to further understand the benefits of certifying a project under LEED., BEE looked at energy consumption data for one of the luxury retail stores we manage in Shanghai, then compared the data from before and after the LEED application. As pictured below, energy consumption dropped dramatically, resulting in a reduction of more than 8% in the store. This is the first time that anyone in the retail industry has been able to see the impact on energy consumption directly resulting from the implementation of LEED Certification.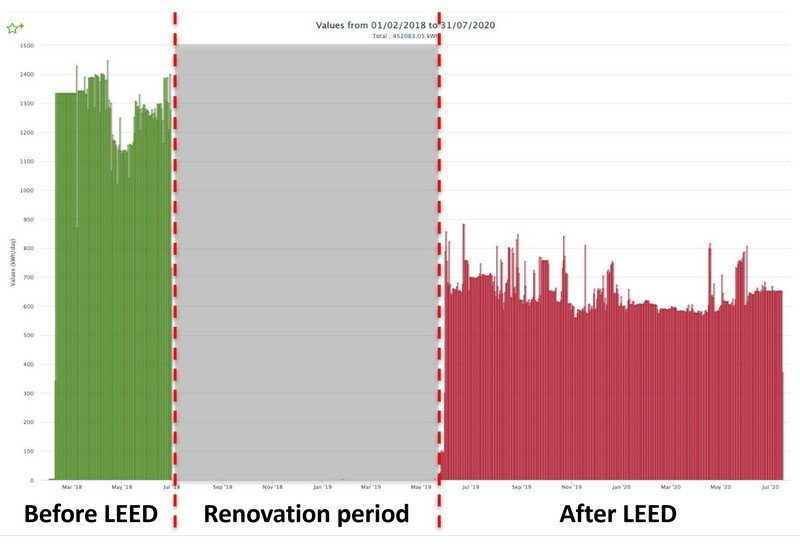 Moreover, following our study, we were able to prove that LEED certified projects promote the health and well-being of the occupants inside a space, while also helping facility managers improve building operations and maintenance. For instance, indoor air quality is greatly improved given the higher filtering requirements recommended in LEED (Enhanced Indoor Air Quality Strategies). For example, the image below shows that the filtering efficiency of a LEED project (see right) employing a high efficiency filter reduces the indoor levels of PM2.5 when compared to a non-LEED project (see left) employing a lower efficiency filter.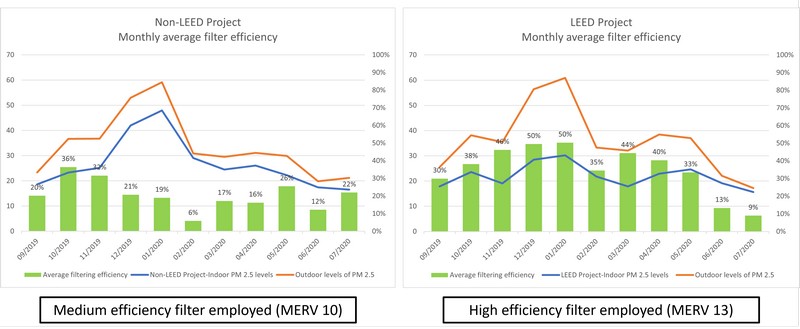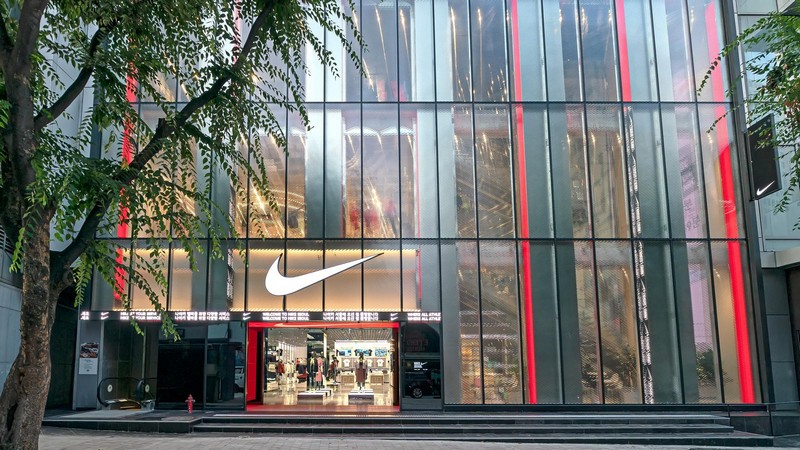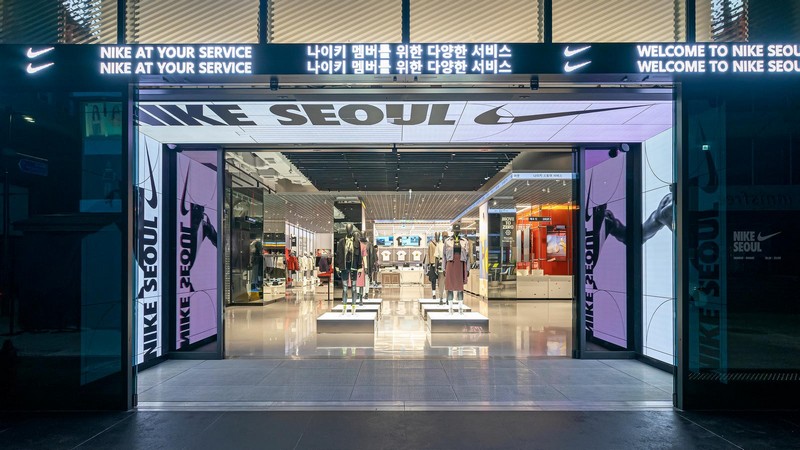 "The TRUE Zero Waste and LEED Certifications are really a step forward toward Nike's commitment and 'Move to Zero' journey to zero carbon and zero waste, to help protect the future of sport. These programs are enablers for us to reduce our environmental footprint and circular business models" (Luis Pellat, Retail Facilities & New Stores Manager – AsiaPac-LatAm)
This project is Nike's first store to secure a LEED Gold certification, and also the first in Asia to launch Recycling & Donation – Nike's fully integrated service for recycling and donating gently worn footwear and apparel. Recycled or donated items will be sent to partnered organizations that help communities facing disasters and other challenging circumstances. By achieving TRUE Certification, LEED certification, and employing continuous monitoring, Nike is showing its commitment to reach zero waste targets, increase resource efficiency, and cut their carbon footprint.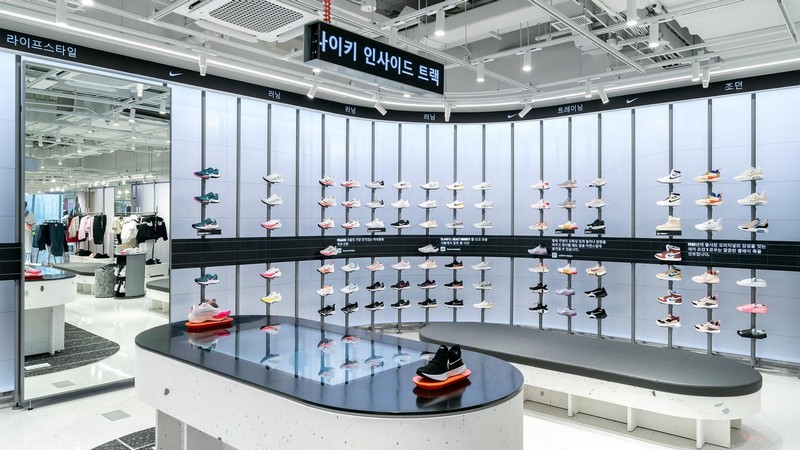 "We see significant benefits by implementing BEE Sense in our Stores, as a critical tool to measure, monitor, ensure and maintain optimal conditions for our store team and Consumers visiting the store and reducing our energy consumption" (Luis Pellat, Retail Facilities & New Stores Manager – AsiaPac-LatAm)
Key "Move to Zero" Initiatives
Nike will power owned-and-operated facilities with 100 percent renewable energy by 2025.
Nike will reduce carbon emissions across its global supply chain by 30 percent by 2030, in line with the Paris Agreement of 2015.
Nike diverts 99 percent of all footwear manufacturing waste from landfills.
Additionally, Nike diverts more than 1 billion plastic bottles per year from landfills to create yarn for new jerseys and uppers for Flyknit shoes.
The Reuse-A-Shoe and Nike Grind programs convert waste into new products, playgrounds, running tracks and courts.
BEE is a world leading green building and engineering consultancy. We specialize in sustainability and technology deployment that maximizes resource efficiency and health and wellness within built spaces. As the only Asia-based company recognized as both WELL Enterprise Providers and LEED Proven Providers, BEE has delivered hundreds of successful LEED and WELL projects in over 35 countries. Our track record of achievements – such as the world's first retail space certified under LEED O+M v4.1 and China's first LEED Platinum certified hotel – position us as the leaders in sustainability for retail and hospitality.