Swire Properties broke ground on Brickell CitiCentre, its new large-scale mixed-use development in Miami, Florida, US. The project, which will cost US$1.05 billion (approximately HK$8.17 billion) to develop, is the largest private sector venture of its kind in Miami history.
Hosted by Martin Cubbon, Chief Executive of Swire Properties, the ground breaking ceremony was followed later in the evening by a gala event at the Mandarin Oriental, Miami on Brickell Key, which was attended by 300 guests, including eminent Miami government officials.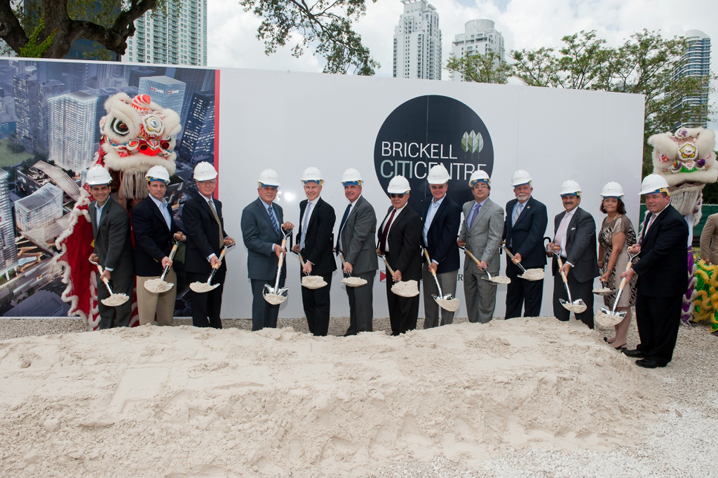 Swire Properties' management and Miami City and Dade County officials turn the first soil at the groundbreaking ceremony for Brickell CitiCentre.
Spanning 5.4 million sq ft (over 500,000 sqm)* of GFA, the Brickell CitiCentre project marks the first time the Company is deploying in the US the mixed-use model that it has developed and proven in Hong Kong and Mainland China. Located in the heart of the prestigious Brickell district in Downtown Miami, Brickell CitiCentre will embrace a luxury shopping centre, two condominium residences, a hotel, a wellness centre, serviced apartments and two office towers in one master-planned development.
The first phase of the Brickell CitiCentre project, which includes all elements except for one office tower, is scheduled for completion in 2015, followed by the final office tower in 2018. 
(From left to right) Stephen Owens, President of Swire Properties Inc, Tomas Regalado, City of Miami Mayor, Martin Cubbon, Chief Executive of Swire Properties Ltd and Carlos Gimenez, Miami Dade County Mayor.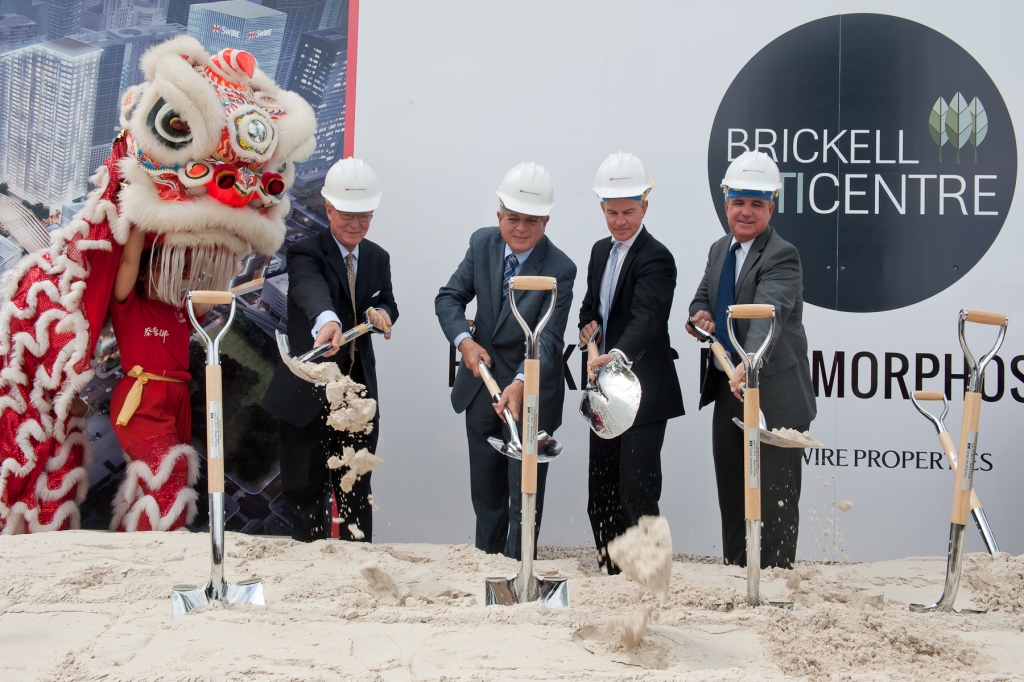 The development will be well connected to local transportation networks: in addition to providing 3,100 parking spaces, the Company will also redesign and enhance the Eighth Street Metromover station to integrate it into Brickell CitiCentre, and will include two overhead pedestrian crossings to facilitate easy access for visitors to the shopping centre.     
"This groundbreaking is a milestone event for Swire Properties," stated Martin Cubbon. "We have spent the past 40 years developing world-class mixed-use properties in Hong Kong and Mainland China, creating places where people can live, work and enjoy life, and we are thrilled to be bringing our visionary approach to the US. Our 30 years of work on the island of Brickell Key have helped establish Brickell as a quality residential hub for Miami residents, and I have no doubt that our Brickell CitiCentre project will transform Brickell into a vibrant commercial destination."
Stephen Owens, President of Swire Properties Inc, the Company's US operation, commented on the project's positive impact on Miami's economy. "Brickell CitiCentre will account for approximately US$1 billion in overall economic benefits, creating over 1,000 jobs during its construction and thousands more jobs after its completion. It's an exciting endeavor which we feel will bring tremendous benefits to the local community, and we are very appreciative of all the support we have received from the City of Miami and Miami-Dade County for the project."
More information at www.swireproperties.com.