Private and business aviation company TAG Aviation has consolidated its operations on one floor of Harcourt House in Hong Kong. In doing so the company has created a more open environment for working and collaboratively.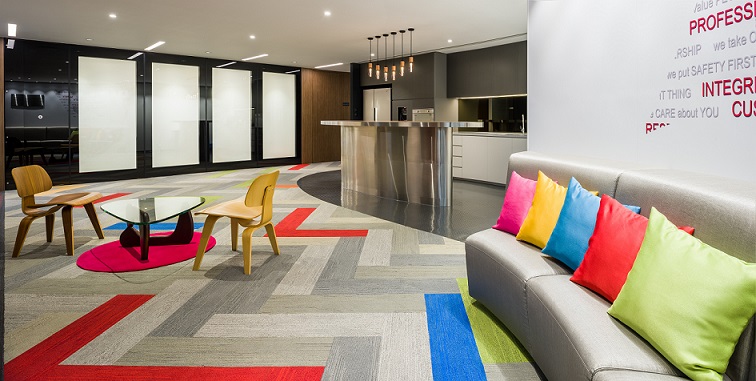 The sweeping curves of the reception area form an expansive, welcoming environment for visitors. The red, grey and white of the décor reflects and emphasises the TAG brand and corporate identity, as does the display of models of aircraft and aviation graphics. TAG stands for Techniques d'Avant Garde, a term often used to describe innovation in aviation, motor sport and other endeavours that rely on technology. TAG Aviation is a leader in its industry, having operated for more than 50 years from many airports in Europe, the Middle East and Asia.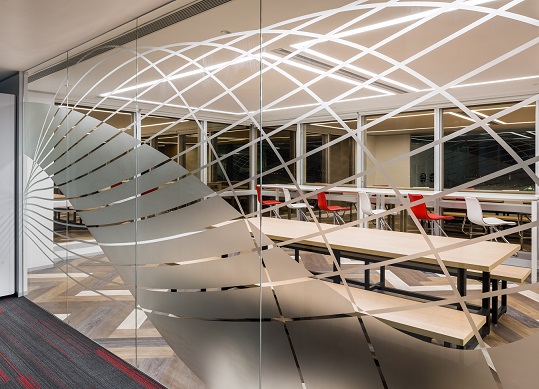 The reception area leads into the conference room, which is more than the name implies. It is a multi-purpose area with modular, re-configurable tables and moveable partitions. The transparent glazing in the partitions can be made opaque if privacy is desired in the space they enclose. This partitioning system is used throughout the offices, giving the occupants a variety of communal breakout rooms and meeting places that are adaptable for any purpose.
The main breakout room has bench, bar and table seating. Food preparation areas and multimedia facilities are available. The boardroom is a more formal area, fitted with darker timber and furnished with leather-covered chairs. The acoustic properties of the ceiling facilitate conversation.
The TAG Aviation Asia Operations Group, works on Y-shape desks to allow closer communication and greater interaction generally. More conventional L-shape cubicles are ideal for staff that work on their own. The sound-absorbing translucent panels that separate the cubicles make them relatively quiet and private. The entire office area has an abundance of natural light, creating an environment for working positively and cohesively.