Commercial property is always so intriguing. However, as commercial carriers, what kind of new building form and operation mode will appear in terms of shopping centers, hotels, resorts, offices, cultural sectors and etc.?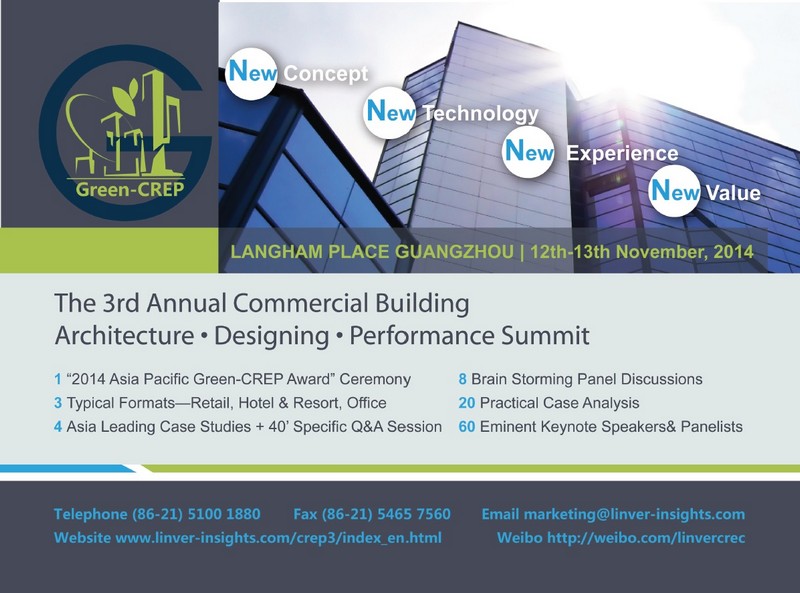 Linver Insights believes that new commercial ideas must bring new experience and create new value through new technology. Moreover, it's Green-CREP3's responsibility to discover the architecture, design and performance patterns of all these commercial buildings.
The 3rd Annual Commercial Building Architecture • Designing • Performance Summit (Green-CREP3) set "New Concept, New Technology, New Experience, New Value" as a guideline, will be held on 12th-13th November 2014, in Langham Place Guangzhou China, organized by Linver Insights and co-organized by The American Institute of Architects.
Green-CREP3 will start with 4 Asia Leading Cases Studies and 40' Specific Q&A Sessions on day one.4 selected cases are first lifestyle hub in the west of Singapore (JEM);first international entertainment hub in China (Sea World, Shenzhen); highest tower in the world (Burj Khalifa); biggest city commercial, culture, art museum (Shanghai West Bund). And after each case, there would be a fixed 10 minutes project group Q&A session, inviting not only developers, but also planners, designers and operators who join the project directly to give all delegates accurate answers.
Then, Green-CREP3 will go deep insight into 3 commercial property formats with 16 practical case analysis and 8 brain storming panel discussions. Retail (Shopping Mall) chapter will set "Sense + Sensibility" as the theme, including 5 typical cases share in Kerry Parkside, Parkview Green, MTR, Chengdu Width Alley, and Shou Gang Group. Hotel & Resort chapter set "Creativity + Design + High-Tech = Experience" as the theme, sharing cases in Atlantis The Palm, The Upper House, Kingsway Tented Resort, Changlong Hengqinwan Hotel Zhuhai, Tonino Lamborghini Boutique Hotel, W Hotels Taipei, covering 4 hotel types on tourism & resort destination, high tech and low carbon hotel, themed hotel and design hotel. Office & Public Commercial Building set "Plan + Function + Efficiency = Sustainability" as the theme, sharing cases in Shanghai Tower, Sky SOHO,CIC Zero Carbon Building in HK, China Merchants Property Headquarter, Beitang in Binhai Area, covering 4 building types on tall building, BIM & value engineering, energy saving and headquarters base. And 8 brainstorms will be arranged after some outstanding cases to bring more creative ideas and wisdom collision.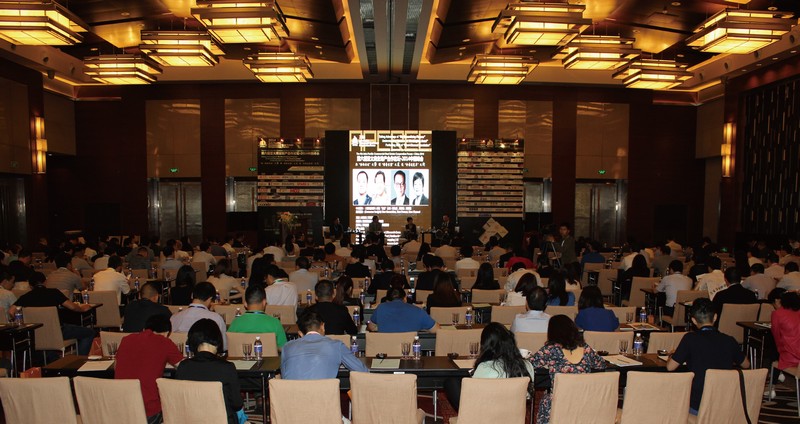 In Green-CREP3 Summit, Linver Insights will output eminent speakers from developers, especially for Asia benchmark property developers and also China leading developers; from hotel management groups, especially for innovative, experiential and high-tech oriented design boutique hotels, to show up their concepts and expertise. And AIA will also output outstanding design masters worldwide to share ideas and practical experience.
On Green-CREP3 Day One ceremony evening gala, Linver Insights will cooperate with FuturArc (BCI Asia Subsidiary) to authorize the "2014 Asia Pacific Green-CREP Award". 20 Decision Marker Jury from outstanding developers, hotel groups, design firms and operators will final select 25 top projects from 60 candidate ones in Asia Pacific Region.
Besides, Green-CREP3 puts more focus on interactive networking and experience. "Grade on Site" is a special session after each presentation and panel. Each delegate will mark for each speaker and the result will be showed on screen, to stimulate speakers' well preparation & presentation skill on site. The voting system in "Grade on Site" session is provided by Sunvote. Also Linver Insights' partner ICON Digital Technology will make 3D visual effect to each project case shared on Day One and award project, to bring all delegates lively experience.
Green-CREP3 is a 300 to 350 delegates scale summit, with 60 speakers from Lend Lease, China Merchants Property, Kerry Parkside, Capella Hotel Group, Six Sensed Hotels, Armani Hotels & Resorts, SCDA Architects, AFSO, HKG Group, etc.; over 80 commercial property developers from Shanghai West Bund Development Group, Chongqing Forebase Group, SOHO China, Greenland Group, Vantone Real Estate, Sino-Ocean Land, Tishman Speyer, Emaar Properties, etc.; over 50 hotel management groups, from Atlantis, Pangu 7 Star Hotel, New Century Hotel Group, Kinsway Tented Resort, Kempinski Hotels, Waldorf Astoria on the Bund Shanghai, etc.; over 60 engineering / architecture / designing Firms, from SOM,KPF,TFP Farrells, RTKL, AECOM, Atkins, Parsons Brinckerhoff (Asia) , etc.; over 40 consulting service / product / solution providers and 40 Authorized Domestic & Abroad Media Reports. English and Chinese simultaneous translation service is provided.
A grand event in commercial property architecture, design and energy saving area. Do not miss it!