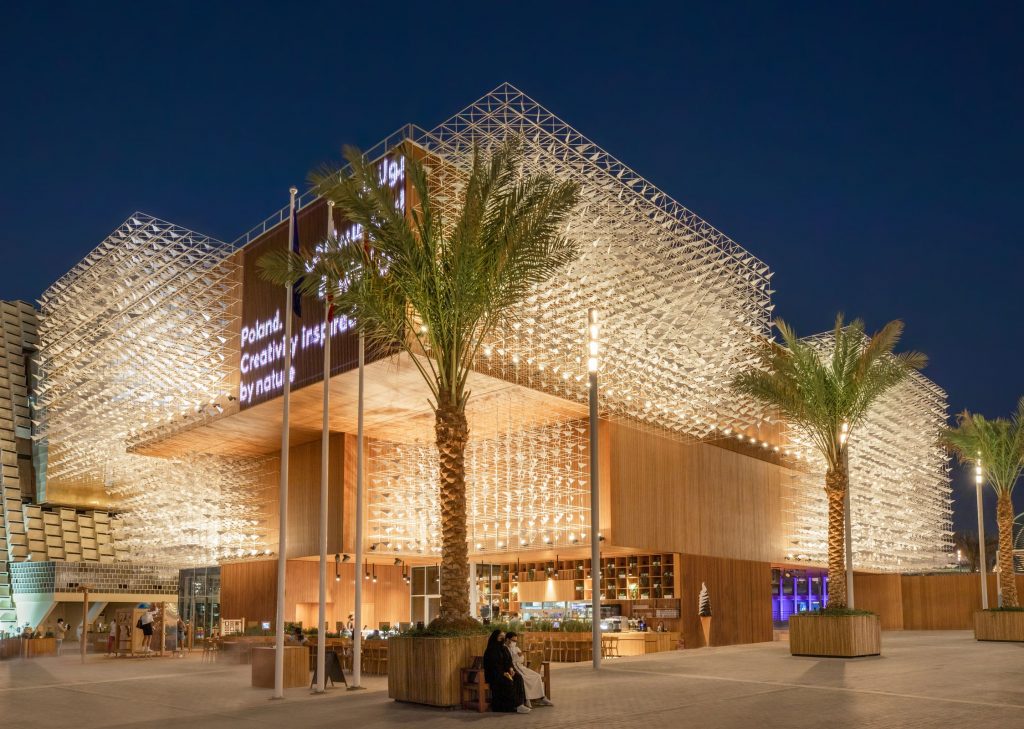 The Polish Pavilion at the World Expo 2020 in Dubai is a tribute to nature. Wood, a symbol of continuing rebirth, is the main material used. "Poland. Creativity inspired by nature" is the theme of the building. This is why Osmo products were selected to be used in the creation of this huge undertaking to represent the Polish nation on the world stage.
The entire area of about twelve thousand square metres is protected with Osmo wood finishes, from the external façade, the interior walls of the structure, ceilings and floors, to stairs and balustrades.
Developed from natural oils and waxes, with over 140 years of experience, OSMO finishes places emphasis on the wood's grain and natural characteristics of the wood. The microporous finish allows the wood to breath and reduces the risk of swelling and shrinkage. Water-repellent, extremely weatherproof and UV-stable, surfaces will not crack, peel, flake or blister. Osmo finishes are ideal for all wood in indoor and outdoor areas.
The pavilion designers wanted the finishing to showcase the natural characteristics of wood and, after drying, to create a matt, transparent, protective layer with high surface hardness, whilst being abrasion resistance.
The Siberian Larch wood of the exterior is protected by Osmo Natural Oil Woodstain 701 Clear Matt and 702 Larch as well as Natural Oil Woodstain in a customised colour created specifically for the project. For the interiors, Osmo Top Oil Clear Matt was selected to provide protection for interior wooden elements.
Wood and finish from Germany. Available in Hong Kong.
For further details, please visit OSMO at www.osmo.com.hk.