Quay Quarter Tower (QQT) in Sydney, Australia has been declared the World Building of the Year 2022 this evening at the fifteenth annual World Architecture Festival (WAF), held in Lisbon.
It was announced amongst other ultimate accolades including World Interior of the Year, Future Project of the Year and Landscape of the Year, at a glittering gala dinner held at the Convento Do Beato, a former Portuguese convent dating back to the 16th century, located in a historic part of Lisbon.
World Building of the Year
The World Building of the Year, supported by GROHE went to Quay Quarter Tower (QQT), designed by 3XN Architects.
The 206-metre tower, located close to the Sydney Opera House, is an office building arranged as a vertical village, creating a sense of community and providing spaces that focus on collaboration, health, well-being and external terraces.
Constructed of five stacked shifting volumes, 3XN employed a radical sustainability strategy which involved upcycling the existing tower. The series of stacked atria create a social spine with exceptional views, while also allowing daylight deep into each floor.
Paul Finch, Programme Director of the World Architecture Festival commented: "The winner was commissioned to provide a building on a world class site, and to retain a huge proportion of an existing fifty-year-old commercial tower. The result was an excellent example of adaptive re-use. It has an excellent carbon story, and it is an example of anticipatory workspace design produced pre-COVID which nevertheless has provided healthy and attractive space for post-pandemic users. The client was prepared to risk building out an idea on a speculative basis – it worked".
The winner was selected by a super jury of luminaries of the global architecture industry – comprising Tracy Meller, Rogers Stirk Harbour + Partners; Jo Noero, Noero Architects; John Wardle, John Wardle Architects; Issa Diabaté, Koffi & Diabaté Architectes, and Murat Tabanlioglu, Tabanlioglu Architects.
World Interior of the Year
Pingtan Children Library by Condition_Lab, has been named World Interior of the Year for 2022. The project, located in China, has been selected from a shortlist of 11 categories to win the final accolade, which was supported by Miele.

The library is a small timber structure, which draws on a typology of traditional 'Dong Houses' and is primarily composed of two interwoven spiral staircases. The value of the project is concentrated in the animation and preservation of traditional culture for the young users and the discipline of the design, highlighting the social importance of architecture.

Judges were impressed by the "traditional craftmanship" of the design for children, "the real users of this delightful structure, where they can play on the steps, reach for a book or peak at their friends". They congratulated Condition_Lab on creating "a space for the community and achieving it".

The INSIDE World Interior of the Year award was judged by INSIDE festival's 2022 super-jurors: Linzi Cassels, Perkins + Will; Ann Lau, Hayball; Eva Jiřičná, AI – DESIGN; Johnny Chiu, J.C. Architecture, and Nigel Coates.

The Moving Kitchen by JC. Architecture was highly commended.
Future Project of the Year
The Future Project of the Year 2022, supported by ABB, celebrates the best of the world's architecture that is yet to be completed. The winning project was awarded to Dream Pathway / The connection between the sports recreation park to a cultural street, in Iran, designed by CAATStudio (Kamboozia Architecture and Design Studio).
The project showcases an urban pedestrian and cyclist pathway in the western part of the Abbas Abad hills complex in Tehran. The project, once complete, will aim to create an interactive-attractive narrative in the city which moves users between four different zones through the use of rammed earth material and geometric forms.
WAF's Future Project super jury, included: Shane O'Toole, University College Dublin; Sir Peter Cook; Nadia Tromp, Ntsika Architects; Mario Cucinella, MCA – Mario Cucinella Architects, and Yui Tezuka, Tezuka Architects.
Judges described the project as an "original architectural and urban concept that lives up to its project title and ambition" and congratulated it on its "exquisitely controlled geometry" which they felt "provided a surprising continuity" between the "city's street pattern and the district's new parkland destination".
Landscape of the Year
Landscape of the Year 2022 was awarded to SHANCUN Atelier, School of Architecture, Tsinghua University + Anshun Institute of Architectural Design for its project Preservation and Rehabilitation of Rural Landscape of Gaodang: A Buyi Ethnic Minority Group Village in Southwest China. The project was selected as the winner from the Landscape Rural category.
WAF's Landscape of the Year super jury, included: Todd Longstaffe-Gowan, Todd Longstaffe-Gowan Landscape Design; Lily Jencks, LilyJencksStudio | JencksSquared; Mariana Simas, studio mk27, and Zaš Brezar, Landzine.
The judges praised the project as an "incredibly sensitive village conservation scheme, breathing life back into rural China". The project brings together a rich diversity of stakeholders over the last seven years, to realise a design that ensures this rural community will last into the future.
In the 'Rural' Landscape category, Design as Experiment: The Handan Wastewater Cleansing Terraces by Turenscape was also highly commended. First place in the 'Urban' category was awarded to SHATOTTO for Revitalization of Rasulbagh Children's Park, Bangladesh, while TROP Company Limited by An Villa was highly commended.
Special Prizes
The WAFX Award overall winner was BAD – Built by Associative Data + Guallart Architects for their project The Tower of Life, Senegal, Africa.
The Futureglass Prize, supported by Aestech, was awarded to MVRDV for Depot Boijmans Van Beuningen, in Rotterdam, the Netherlands. Substation 164 by Francis-Jones Morehen Thorp was highly commended.
Best Use of Natural Light Prize, supported by VELUX, went to Condition_Lab for their project Pingtan Children Library in China, while Agrotopia by van Bergen Kolpa architects + META architectuurbureau was highly commended.
Woods Bagot received the Best Use of Colour Prize, for their project Meadowbank School in Australia. Judges felt that "the whole balance of the building through colour, texture and material was exhilarating". Harvard University District Energy Facility by Leers Weinzapfel Associates was highly commended.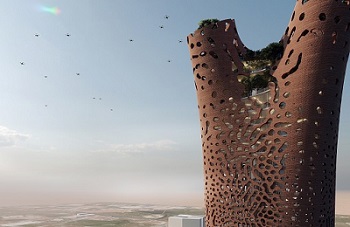 Winner of the Visualisation Prize, supported by Lumion, was Shenzhen Airport East Comprehensive Transportation Hub Competition Scheme, in China, by Lingui Hive Technology Services Limited, and Souls of Beirut by Omar Moataz was highly commended.
The inaugural International Building Beauty Prize, supported by Royal Fine Art Commission Trust and Ballymore, was picked up by k-studio for Dexamenes, in Kourouta, Peloponnese, Greece. Judges were impressed that the building "proved beauty could be found anywhere…even in an old raisin factory!". Phoenix Central Park by Durbach Block Jaggers / John Wardle Architects, and Tintagel Castle Footbridge by ney&partners + William Matthew Associates were both highly commended.
Announced on the opening night of the festival, The 'Lisbon Prize' supported by Kreon went to Parque das Nações Office Building by Capinha Lopes Consulting.
Play Architecture picked up the Small Project of the Year Prize for Dining Space at DevaDhare, Bengalaru, in India.
Koffi & Diabaté Architectes received the Engineering Prize, for their project Orange Village – Headquarters in Côte d'Ivoire. Judges felt that the project demonstrated "a brave and splendid use of modern technology".
Winner of the Best Use of Certified Timber Prize, supported by PEFC, was Paseo Mallorca 15, by OHLAB. The judges praised the project's "masterful control of light", and "timeless beauty and technical innovation".
The Architectural Photography Awards, supported by Iris Ceramica Group, Sto, Aluprof, WAF and X spaces was awarded to photographer GuoZhe for Pocket Park Shanghai in China, while Deed Studio won the WAF Delegate Vote for its photograph of Jagdal Primary School in Iran.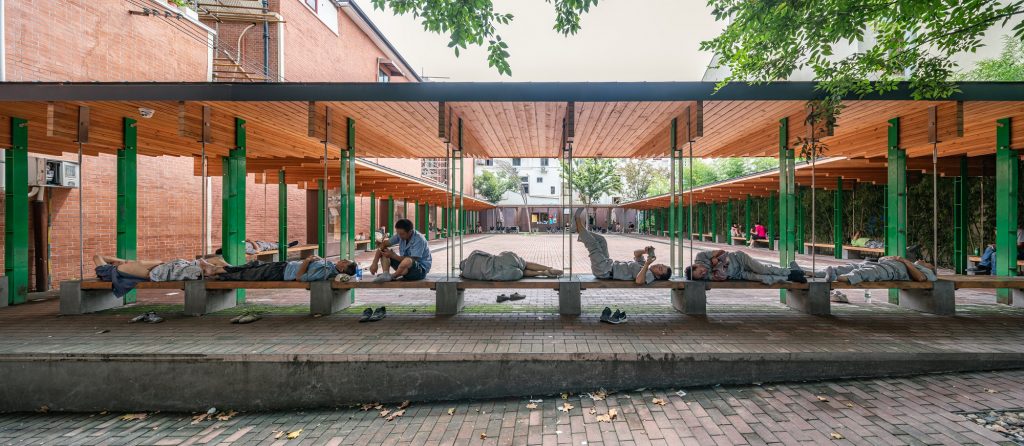 Last night, Instituto Balear de la Vivienda (IBAVI), Spain was announced as the winner of the Architectural Review Emerging award 2022, and Sanchez Benton Architects was highly commended, while Sher Maker won the Peter Davey Prize.
The International VELUX Award winner of Daylight in Buildings was TIP – Time Indicate Protection, by Zuzanna Sazonow and Aleksandra Pytka. The winner of Daylight Investigations was Sajjad Navidi, Mahya Mousavi Sadr and Elham Bahadori from University of Art, Tehran for their project FLight.
World Architecture Festival 2023
The festival will reconvene in 2023 in Singapore for its 16th edition from the 29 November to the 1 December.
Registration is now open: for more details and to register your interest, please visit: here.
For more details on the 2022 World Architecture Festival and Inside Festival of Interiors, including a full line up of award winners, please visit: www.worldarchitecturefestival.com and www.insidefestival.com.