(29 June 2016, Kong and Macau) – The Hong Kong-Zhuhai-Macau Bridge, which is scheduled for completion in 2017, is expected to be able to create mutual economic synergies among the three cities through their further collaboration. At a business luncheon hosted by AmCham Macau at St. Regis Macao in Cotai Central last Wednesday, Mr C K Lau, International Director and Head of Valuation Advisory Services in Asia at JLL, spoke on the topic: "What's next with the improved infrastructure – The future landscape of the hotel market in Hong Kong and Macau".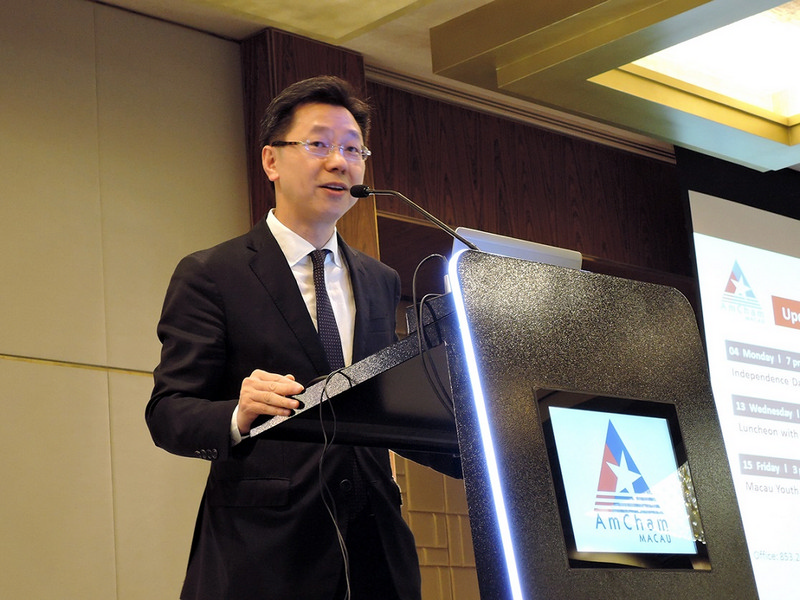 Referring to the increase in visitor arrivals between 2010 and 2015, Lau pointed out that about 70% of the growth in Macau was driven by visitors from mainland China using the Individual Visit Scheme (IVS), while for Hong Kong this figure stood at about 60%. During the same period, the 5-year Compound Annual Growth Rate (CAGR) of total visitor arrivals in Hong Kong and Macau was 11% and 4% respectively, while the numbers of IVS mainland visitor arrivals in both places have registered double-digit growth at 14% and 12% respectively.
In terms of premium hotel markets, Lau summarized that Macau has a variety of comparative advantages over Hong Kong:
Firstly, the supply of hotel rooms in Macau continues to increase. Currently there are about 18,000 High Tariff A hotel rooms in Hong Kong, accounting for around 24% of the total supply in the city. Macau has surpassed Hong Kong with over 20,000 of five-star hotel rooms, making up about 65% of the total supply. The growth in hotel room supply in Macau is expected to remain higher than that of Hong Kong over the next three years.
Secondly, the current average room rate of five-star hotels is significantly lower in Macau than Hong Kong; at around 80% of the price, this makes Macau more attractive to visitors. In fact, the gap between Hong Kong and Macau's achieved average room rates has narrowed in the last few years. In 2010, Macau's hotel revenue was only about 60% of Hong Kong's, but in 2015 that figure had increased to 70%.
Thirdly, the average size of hotel rooms in Macau is larger and the facilities are more comprehensive when compared to those in Hong Kong. As Macau can offer greater flexibility of accommodation to travellers visiting Hong Kong and Macau, it is worth watching whether the current trend of visitors taking Hong Kong as a base to visit Macau will reverse in the future.
"In terms of the time and costs involved in travelling between Hong Kong and Macau, the completion of the Hong Kong-Zhuhai-Macau Bridge will bring about new challenges to ferry and helicopter operators as well as their associated facilities. Based on the proposed fees previously announced for using the Bridge, it will cost HK$100-200 per trip for private cars and HK$200-300 for cargo vans, while it will reduce travel time to less than an hour. According to government statistics released in 2008, the estimated number of visitors using the bridge to travel between Hong Kong and Macau will reach approximately 18 million in 2020. Road will become the dominant mode of transport between the two cities and the number of visitors using the bridge will make up about 70% of the total number of visitors travelling the route," Lau said.
"Whether the new infrastructure can bring about new opportunities depends on how well Hong Kong and Macau can work together to enhance the effectiveness of related facilities such as shuttle bus schedules, provision of parking spaces for private cars, coaches or private buses. Developers may explore the potential of new development areas and areas close to infrastructure-related projects. The earlier the Hong Kong and Macau governments can collaborate, the more synergies the two cities can create," Lau concluded.