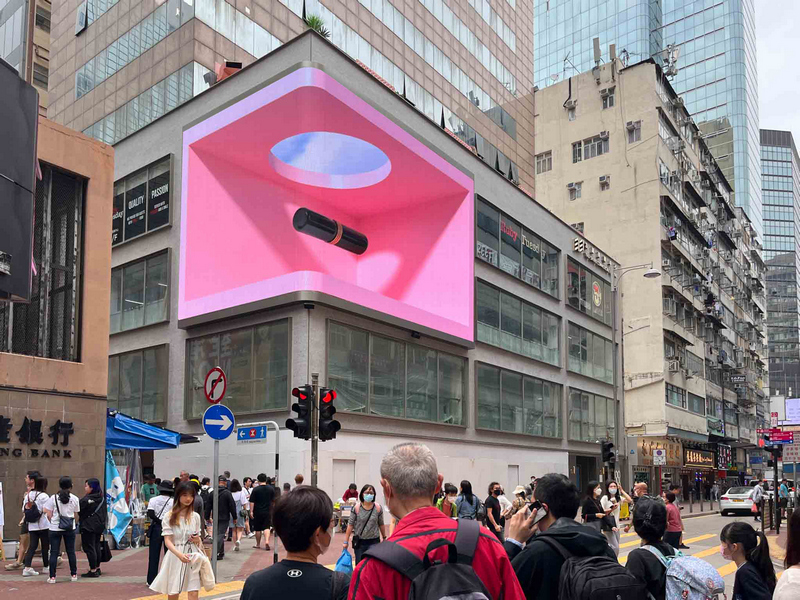 (10 May 2023, Hong Kong) International real estate firm Savills is appointed by the owners as the lead leasing agent of Yau Shing Commercial Centre in the heart of Mong Kok (known as "The Property"). Following a comprehensive renovation, the property now boasts refreshing decorations and designs in the main entrance and elevator lobby. Additionally, a 16-meter-wide L-shaped giant outdoor 3D electronic billboard has been installed on the exterior wall, becoming a new eye-catching landmark in Mong Kok, attracting many passers-by to stop and take photos.
The Property's premium location is just a 1-minute walk from the Mong Kok MTR station and a 3-minute walk from other popular shopping hotspots such as "Sneakers Street" and Langham Place. Given its prime location, the property enjoys heavy footfall of local consumers and tourists coming for shopping and leisure.
Savills is in charge of leasing the shops located on the ground to second floors of the property and has successfully introduced several tenants, including the highly popular fashion chain store GU. This will be GU's first store in Mong Kok and will occupy two floors with a total area of approximately 11,000 square feet. The store is expected to open in late July. Additionally, a variety of dining options have been introduced to provide customers with a unique and enjoyable and dining experience.
Mr. Barrie Chan, Senior Director, Retail of Savills said, " We are honoured to be the lead leasing agent for this property and have successfully brought many internationally renowned tenants to the owner, including GU, which will be opening for the first time in Mong Kok and has leased a duplex unit covering two floors. The recent renovation of the property and the installation of the 3D advertising billboards, which has become popular in recent years, have made it possible for people to enjoy various creative 3D videos without having to go to Japan. We believe that this refreshed appearance will drive higher sales and footfall traffic for the tenants."