(30 October 2023, Singapore) Major cities in Asia Pacific will be faced with a demand-supply gap for net zero-carbon-ready workplaces as corporate net-zero carbon (NZC) targets loom, according to new research from global real estate consulting firm JLL (NYSE: JLL).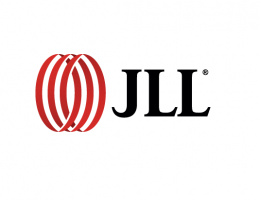 Driven by commitments to NZC goals and the pressure to align real estate strategy with overall sustainability ambitions, occupiers will look beyond green certifications and make decisions based on building-level sustainability metrics, including energy efficiency and green energy procurement. However, according to JLL, a gap between commitment and action has emerged as a significant obstacle in achieving NZC goals.
"Leasing office space in green-certified office buildings is becoming a non-negotiable for occupiers, but currently there is very little correlation between these certifications and a building's energy performance," says Kamya Miglani, Head of ESG Research, Asia Pacific, JLL. "Even buildings with platinum grade green certifications may not be NZC-ready, partly because current regulations are not stringent enough to demand NZC-ready assets."
JLL's Sustainable Offices City Index, which evaluates 20 cities in Asia Pacific on four themes – green stock, physical risk to buildings, city competitiveness and city administrations' proactiveness with NZC targets, highlights that in the region's top-ranked city of Sydney, current green building standards are not enough to achieve a NZC-built environment. A NZC building is all-electric, highly rated, energy-efficient and powered by renewable energy. Sydney is expected to face an 84% undersupply of NZC-ready office space by 2027.
Miglani adds, "Demand for high-quality low-carbon workplaces will inevitably grow when lease expiries approach. Occupiers risk being stuck with limited options if they fail to plan ahead and re-evaluate the sustainability credentials of their current premises." Hong Kong and Mumbai, which are placed in the bottom half of the index, are likewise expected to see a 68% and 62% supply deficit of top-quality sustainable workplaces respectively. Meanwhile, Singapore, Melbourne and Delhi are also expected to be 56%, 43% and 44% undersupplied, respectively.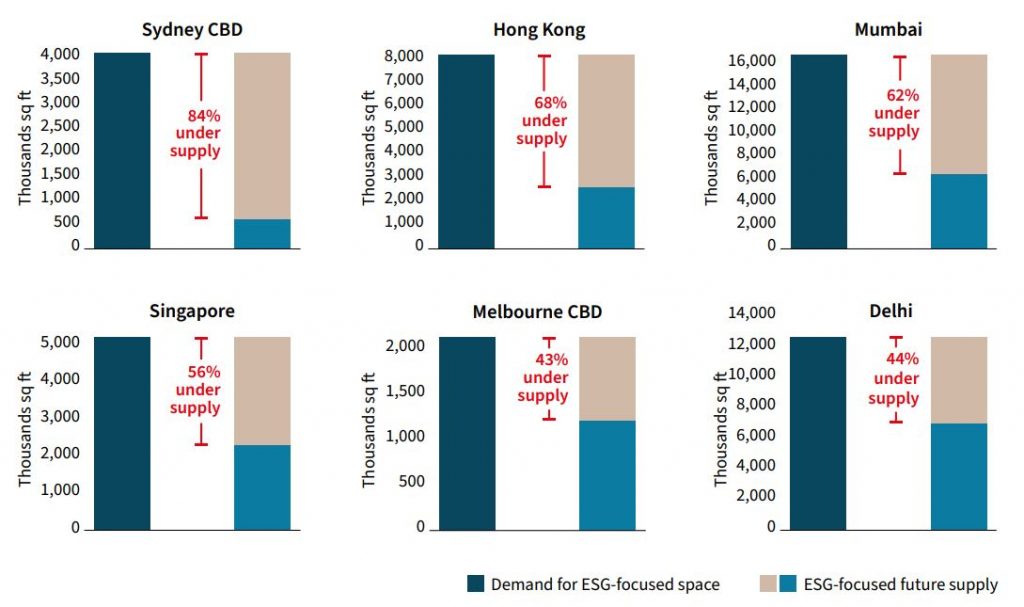 According to JLL analysis, the region must accelerate the rate of retrofitting to meet future regulations to meet the growing demand of sustainable workplaces. The research concludes that redeveloping or upgrading assets to be NZC-ready will serve as the most efficient solution to bridge the supply-demand gap. Furthermore, investors and owners are encouraged to start incremental upgrades now, including retrofitting, to gain a first-mover advantage, or risk a brown discount, or less rental income, as climate-related regulations become more stringent.
With over half a billion square feet of Grade A office space in the region built before 2011, retrofitting potential is substantial in Asia Pacific, according to JLL. In some cities, governments have already been playing a crucial role in addressing the supply-demand gap for NZC-ready office spaces. In June this year, Australia formally incorporated an energy performance measure in its National Australian Built Environment Ratings System (NABERS) to reward electrification of buildings and the procurement of renewable energy for building operations. Similarly, Singapore's government last year provided subsidies to building owners to lower upfront capital costs for energy efficiency retrofits, depending on the level of energy standards attained. "Only a handful of office buildings in Asia Pacific match the criteria of a zero-carbon building today," says Miglani. "The involvement of governments, coupled with corporate demand and action, will fuel the momentum and ensure a steady pipeline of NZC-ready office stock in the future."