The Hong Kong Police Force will get a new state-of-the-art recreational facility at its landmark Causeway Bay location. Architects and planners TFP Farrells will carry out the project.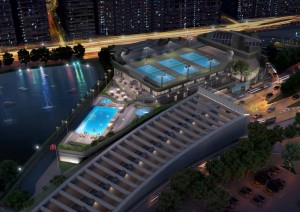 The new Police Officers' Club features an outdoor pool, sports hall, gymnasium, indoor bowling lawn, golf simulators, squash courts and roof-top tennis courts. The design includes restaurants, cafés, bars and a major banqueting facility overlooking Victoria Harbour with its own viewing deck. Seminar and lecture rooms will also be provided for training and conferences.
Incorporated into the design are sustainability features such as green roofs, photovoltaic panels and solar hot water collectors. Farrells are having the design assessed for a HKBEAM Gold rating. The project forms part of a multibillion dollar Shatin to Central Link. The project's cross-harbour tunnels run beneath the site and the current club must be demolished. The harbourside location has height restrictions that preclude any increase in height above the existing three-storey building.