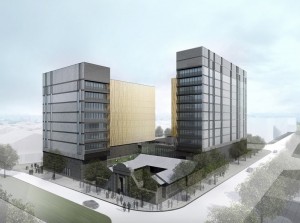 Swire Hotels is preparing to open the doors of its newest offering.
The force behind The Opposite House in Beijing and The Upper House in Hong Kong, Swire's The Temple House is a 100-room hotel in Chengdu with 42 adjoining serviced apartments designed by British architects Make Architects. The hotel's three-dimensional woven façade combines modern design with traditional Chengdu architectural elements: timber, brick and step stones.
Bamboo trees frame the hotel's entrance, which is set in a restored 100-year-old Chinese courtyard building first built in the Jin Dynasty. The Temple House is located within the Sino-Ocean Taikoo Li Chengdu development, a project jointly developed by Sino-Ocean Land and Swire Properties. The hotel is part of a conservation project next to the 1,000-year-old Daci Temple.