(22 November 2016, Hong Kong) With 264 entries, this year's edition of the Around the Island Race has surpassed the previous record of 258 entries for Royal Hong Kong Yacht Club's Around the Island Race.
There will be two start lines on race day with the location depending on the wind conditions in the harbour. The start lines will either be immediately in front of the Club in Causeway Bay or slightly westwards in the area between the Clubhouse and the Hong Kong Convention and Exhibition Centre.
Spectators wishing to catch a glimpse of the spectacle of a mass of sails in Hong Kong harbour should be ready early.  Given the sheer volume of entries, starts will be staggered.  The one-design classes will start from the inner line with a start every five minutes between 0830hrs and 0910hrs.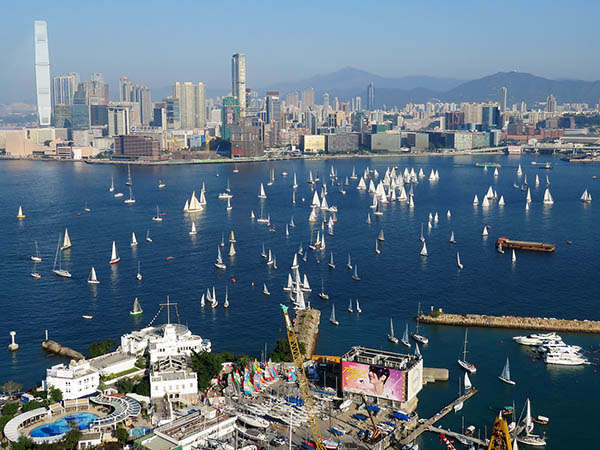 The big boats will take up the outer line with a start every ten minutes from 0850hrs to 0940hrs after which the multihulls will have two starts at 0950hrs and 1000hrs.
The race course features a 26nm circumnavigation of Hong Kong Island to starboard (clockwise),   Breeze permitting, boats will complete the full circumnavigation and finish back where they started.  However if winds are light, the Race Officer may decide to finish the fleet at Green Island, Cyberport or Stanley.
Open to all, it is wonderful to see a few competitors from overseas taking part in this year's event.  John Graham and Grish Stromov, both from Canberra Yacht Club, in Australia, will be be sailing on two Magic 25s in the sportsboat division.
Says Graham, "This trip has been a work in progress for the past couple of years reflecting the common interest of the two major Magic 25 fleets based in Hong Kong and Canberra where the class has proved popular with both the young and more mature sailors who like the fun of the trapeze, the challenge of asymmetric spinnakers and the thrills of a high performance sportsboat.  Whilst in town we are planning to blend in with the locals and enjoy the sights and cuisine that Hong Kong has to offer."  Joining Graham on board It's My Pleasure will be sons Colin and Nick.
Grish Stromov will be skippering Side Winder and says "the Magic 25 is 'special' to me as it is the first yacht I sailed and was a stepping stone for me to get involved in offshore and coastal racing.  I have heard over the years about the size of the Magic fleet in Hong Kong and have been looking forward to the opportunity race in Hong Kong. This will be my first time racing in an event outside of Australia."  Whilst here, Grish will be taking his fiancée exploring and shopping and quite possibly getting their wedding bands made.
Dion Houghton, RHKYC's Class Secretary for Sportsboats added "From our point of view, it is great for the Hong Kong sportsboat fleet to get some interest from overseas. We hosted the Magic 25 Asia Pacific Championships in 2001 and it was hugely successful event, with a fleet making the journey from New Zealand to take part.   We are looking to host another Asia Pacifics in Hong Kong in 2018, and are looking forward to more competitors from overseas joining the regatta.  I hope that John, Grish, their crews as well as their families have a great time exploring Hong Kong and participating in the Around the Island Race and the Lipton Trophy two of the biggest sailing events on our calendar!"
Event website with the full entry list can be found at: http://www.rhkyc.org.hk/AroundtheIslandRace.aspx