Nestled high above the city's skyscrapers sits 8 Kennedy Terrace, a new development in Mid-Levels with a spectacular view of Hong Kong's towering skyline. Spacious rooms with exceptionally high ceilings gave interior designer, Rients Bruinsma the capacity to flourish in his creativity. This project is a collaborative effort between Rients and the Client as the spaces were designed around various pieces the Client already owned which include traditional woven carpets, statement art pieces and vintage furniture that effuse emotion and bring extravagance to the home.
Transformative features include wood paneling installed in the den and living room, coupled with bronze skirting which runs throughout the apartment. One of the bedrooms has been converted into a dressing room and the master bedroom walls are lined with paper backed linen with further hardware details on socket faceplates, switches and additional updated lighting.
"These changes really made a difference and gave the flat a more luxurious feel." says Rients.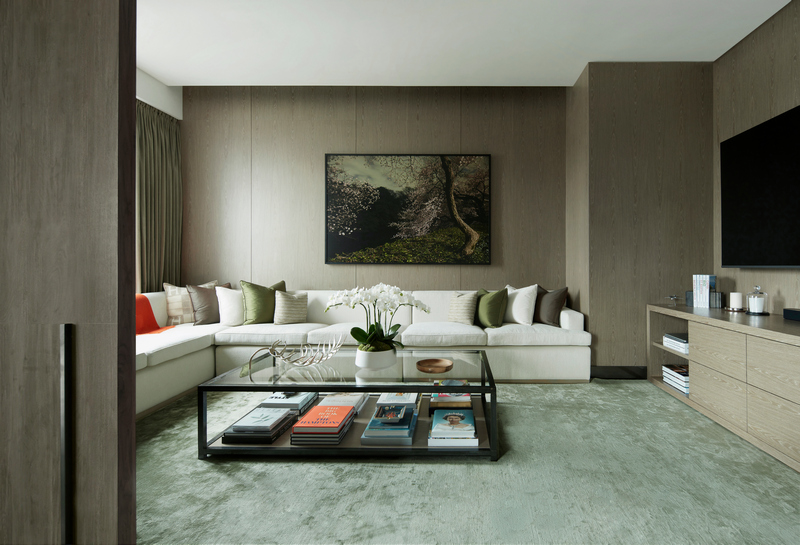 The living and den spaces bring a sense of calm. Rients picked a muted green palette to complement the fleshy tones of the large central art piece by Matthew Stone. Much of the furniture translates to the love for travelling of this client; like the large 100% silk rug custom woven in Nepal, chandelier from London and a delicate pink onyx table commissioned from Italy. In the den, a contemporary photograph by Oir Gersht hangs above the settee to add texture to the wood panel walls and depth to the rest of the space. Various art and coffee table books are placed on a structured glass and forged bronze coffee table which acts as both a display and functional unit.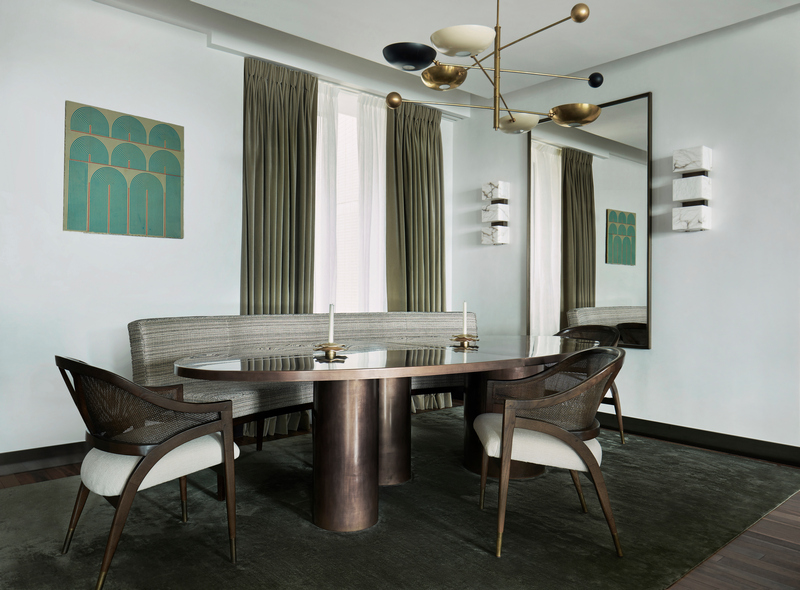 Dining Room
In the open plan dining space stands a dining table that is a sculpture in itself. Boldly constructed in bronze, three large drums support a delicate, dark oval plate which sits atop accompanied by dining chairs in cane and dark stained walnut, an original from Dunbar, a 1960's American designer. To finish, sitting comfortably behind the arrangement is an elongated curved banquette seat in custom woven fabric from Toyine Sellers. Rients included a towering mirror to provoke a sense of space, making the room feel even more expansive.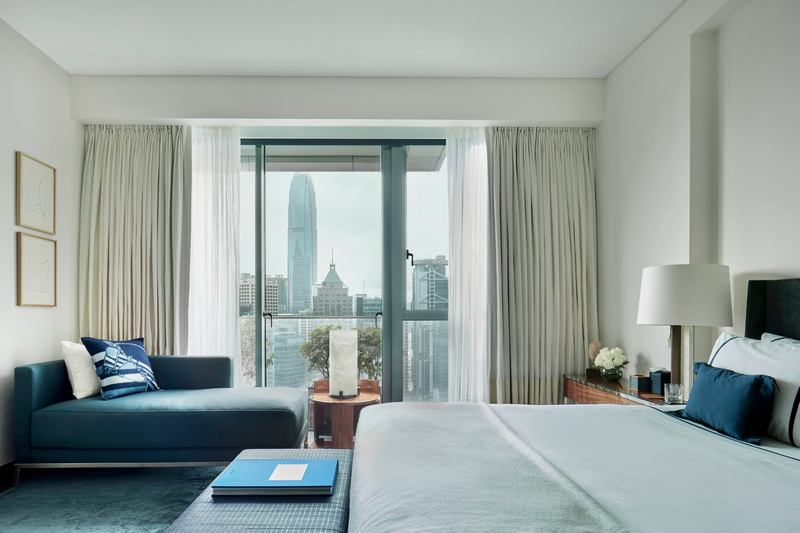 Master Bedroom
Entering the master bedroom, Rients opted for a calming palette. A sophisticated blend of different hues of blue is displayed within the furniture and curated homeware. On the floor is a large midnight blue silk rug which fits to the border of the room. The walls are papered in white linen wallpaper, and the bed is upholstered in blue suede to compliment the silk carpet. On either side of the bed are lamps from Chahan Gallery in Paris, they stand on bespoke bedside tables in polished nickel and high gloss walnut.
Each piece is a complement of one another; and this room, the most personal one of all is a direct reflection of the client. Every home accessory in this room is just as special and functional to complete this well-appointed master bedroom.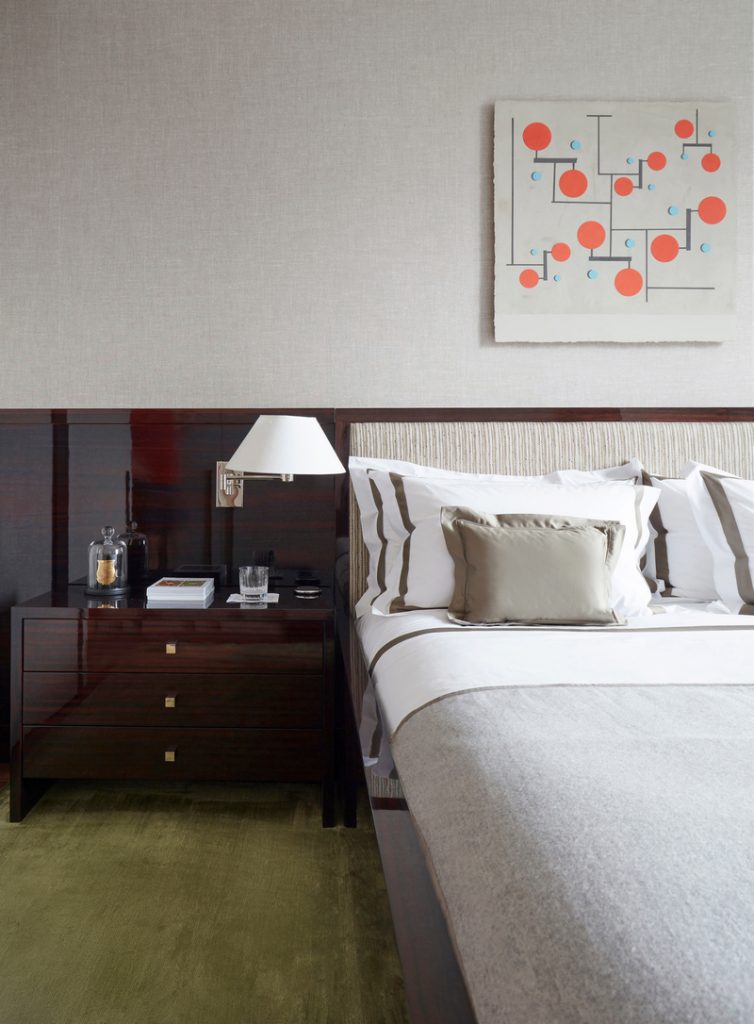 Guest Bedroom
Neutral tones have been used in the guest bedroom for a subdued ambiance with a play on bright colours featured on Elise Ferguson's painting to inject quirkiness. Just as unique as the rest of the space, Rients made sure comfort in the guest bedroom is not overlooked. Homeware handpicked by both the client and designer which includes bespoke embroidered bed linen from Gayle Warwick and a nickel bedside lamp with linen shades from Nessen Lighting in New York.
"[The lamp] creates an understated elegance suitable for the guest's comfort." says Rients.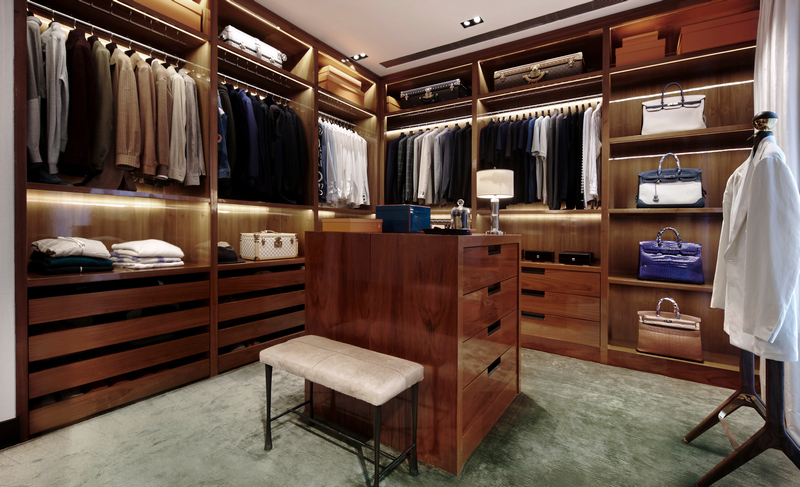 Dressing Room
One of the bedrooms has been reimagined into a spacious walk-in-closet. Functional and understated, the bespoke cabinetry is designed by Rients himself and built by local carpenters. The moss green silk carpet in combination with the gloss finishing of the walnut gives the room a stylish boutique-like atmosphere that is practical and comforting. Rients completes the room with a vintage Brazilian dresser matched with contrasting piece of artwork by Kevin Umana from New York.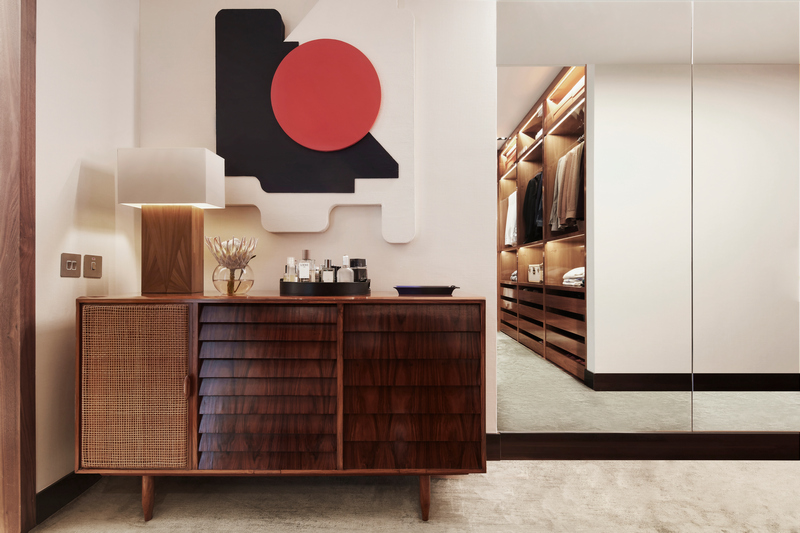 For further details, please visit fuinrealestate.com, interior designer Rients Bruinsma.