From his new office in Hong Kong's design-forward Sheung Wan district, design director and founder of MCO Design Scott Myklebust explains the inspiration, motivation, history and future that informs the master planning and architecture of some of MCO's most ambitious and distinctive projects. 
Meiling Hot Spring Golf Club, Qionghai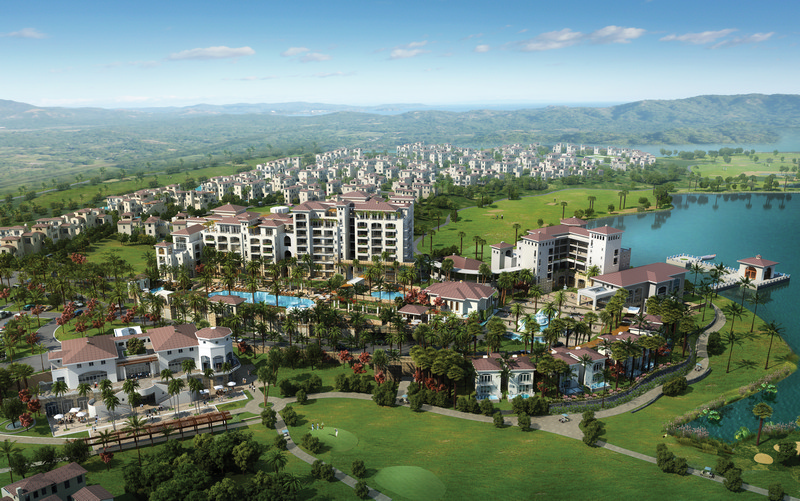 Situated between Sanya and Haikou, the Meiling Hot Spring Golf resort is a small town unto itself. Measuring 30 hectares the site will include a 200-room hotel, 300 luxury villas and 3,000 apartments in an area of Hainan where there are few residential options also offering a golf course. In addition to the villas and the hotel, resident amenities will include; a retail village, healthcare clinic, library and a supermarket,  all centred on the lake.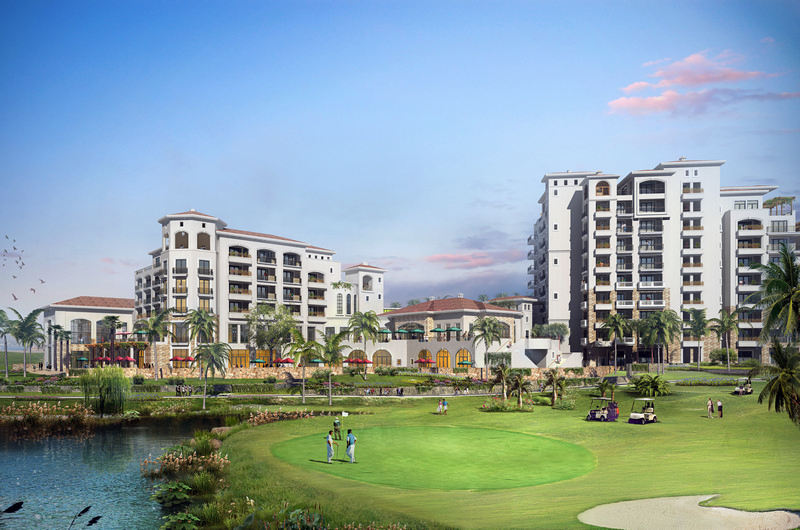 MCO was responsible for every aspect of Meiling with the exception of interiors, and as such, "This project really encompasses everything we do"This area of Hainan is dotted with natural hot springs and the local site context includes a visually prominent mountain top rock formation and is best viewed from the lake edge within the site.  These elements created a strong set of ideas with which to ground the master plan."
"Despite the large scale, in some ways [the project] was quite easy to master plan.. We knew we wanted the golf course to engage the lake, and knowing there are generally two types of courses — links and returning nines — when we looked at the site we discovered right away it was ideal for returning nines. That made the hotel the centrepiece, and dovetailed with providing views of the lake and up to the mountain from it." Meiling began design in 2008 and is expected to take approximately six years to complete, though the golf course, first phase of villas, clubhouse and half of the apartments have been constructed.
It's evident there is a continuity of aesthetic throughout the development, but there is also a stylistic link with what could be referred to as its sister project, The Aegean Resort in Yalong Bay; the same developer is behind both. Meiling was designed with a Mediterranean slant, but this time it's more Italian: the hotel will be The Amalfi. "Within the project, there is a stylistic connection," notes Myklebust. The entire project is defined by its white and rust palette, where understated colour has been introduced onto the villas and apartment towers. However, stylistic cohesion wasn't the biggest challenge. "A project like this is more challenging because it's not in a first tier city and you're budget tends to be tighter. That means trying to create more with less in all aspects of the design."
Lihe International Center, Sanya Bay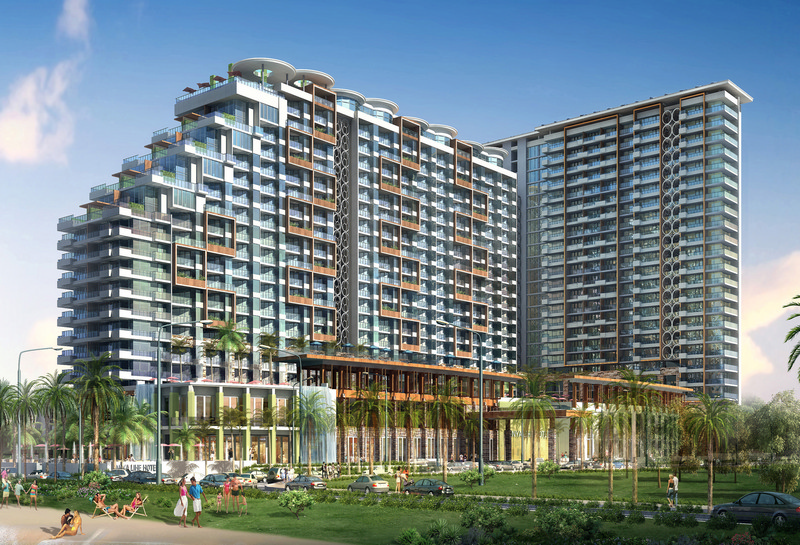 LIC, located on Sanya Bay is M CO's first partial tear down and renovation of an existing property, whose connective curve and overall gentle swooping arc is unapologetically evocative of Morris Lapidus' renowned Fontainebleau Hotel. When the client initially suggested another Greek-style hotel, Myklebust suggested looking back more recently than ancient Greece for design inspiration. "What we wanted to do was take one of the great, iconic modern resorts from a famous place like Miami Beach and reinterpret it in Sanya," explains Myklebust. "Everything else had been done to death and we wanted to find an old idea and bring it to a place that's never seen it before — without just simply copying it."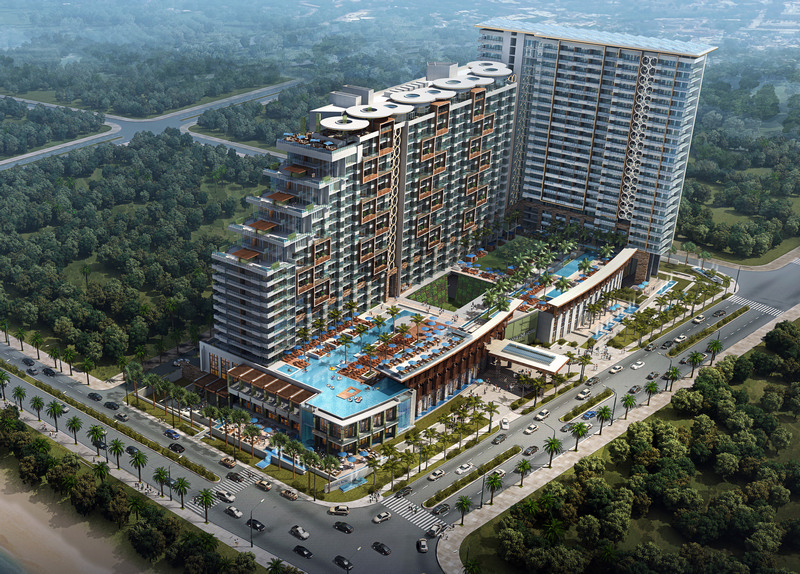 To that end, the Lihe International Center, scheduled for completion in approximately two years, will eventually incorporate 300 hotel rooms, 200 serviced apartments, retail space, a spa and Chinese medicine clinic and conference centre in a site that originally housed two hotels. "This is one of the first examples of a relatively new hotel being torn down in Sanya and a new one being built in its place. The development cycle has gone far enough now that we'll start seeing more properties like this that are out of date or too small or not up to Western standards [being replaced]."
M CO has designed a central pool area to work as an anchor of sorts, a central feature that integrates the new resort with the conference and wellness facilities in the existing structures. One of the reasons for the redevelopment was the need to maximise the value of the land and there's no better way to do that than with so-called free real estate. The Lihe's retail space is open air, but is located at the basement level, leaving the above grade allowable floor area for the more lucrative apartments and hotel rooms without sacrificing the project's aesthetic. Another of MCO's innovations was the decision to drop the site grade back down to street level — it was previously on a raised embankment — and create an open air, basement level retail complex beneath the pool. "It used to be a really unattractive concrete mound and now you walk into a big urban plaza, into the bars and restaurants," says Myklebust. The end result is a suitably swish development that simultaneously exploits its tropical urbanism and respects it.
Haibin Theater Tower, Sanya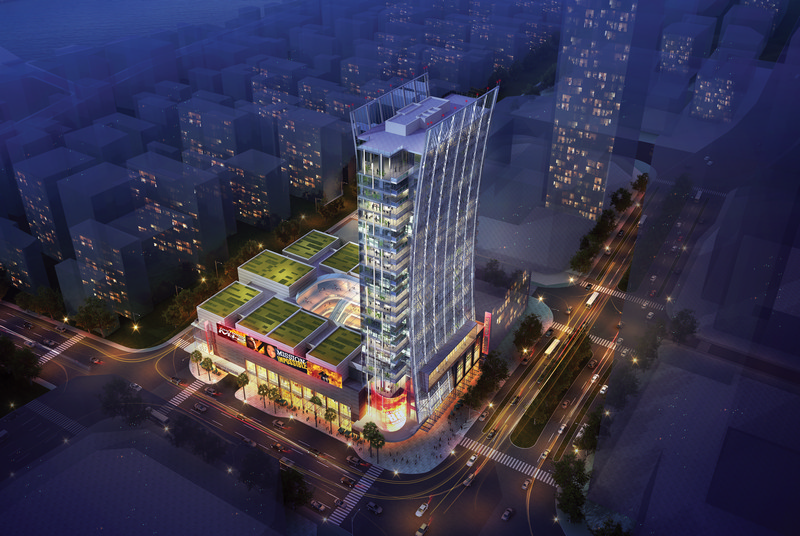 MCO's Haibin Theater Tower is an exemplar of Myklebust's belief in contextual architecture. Located in the heart of Sanya's old CBD, the tower will sit on the site of the city's first movie theatre, originally constructed in 1959, the old building is currently being used for bargain retail, but that doesn't mean it's without historic significance — particularly for Sanya natives as this was the only movie theatre until 2008..  As Myklebust notes; the existing building won't suit current economic realities but it can still inform the design of the new project.. "We are tearing everything down but still want to acknowledge the cinema history of the district.  Our goal is to create an iconic tower that references the forms of the city while providing a new venue for cinema and entertainment."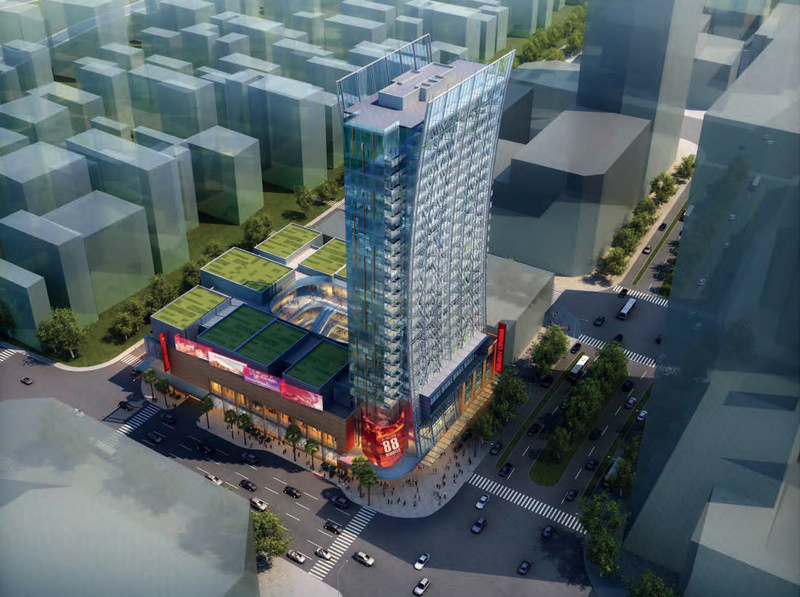 When complete, the HTT will feature retail, a boutique hotel and offices in an area that is in the midst of transforming itself. "This is a district going from four- to five-storey, '50s and '60s concrete structures, to a grade A office tower and mixed use district. So this will be one of many towers in the area eventually. In our view, architects can choose to fit into a context, oppose it or be something in between. That's what this is." As Myklebust sees it, the development cycle has matured beyond wholesale importation of ideas from overseas and developers are increasingly demanding work that's more relevant and more resonant — demands any good architect or designer is keen to honour.
For the tower's design Myklebust drew inspiration from Sanya's indigenous culture, its geography and language. The upper half of the tower recalls the Y-shaped convergence of the city's Sanya and Linchunhe rivers (where the new tower will sit) as well as the old character for "ya" that is in the city's name. The bottom half recalls the character for "people" and taken together gives the building its distinct concave shape. The glass curtain wall is accented by a subtle pattern taken from the Hainan Island indigenous Li textiles. "We wanted to create a building that somehow referenced the local indigenous people but did so in a subtle way that wasn't so obvious." When the light hits the surface during the day the pattern becomes more visible.
There's a second purpose for the glass pattern too: the Haibin Theater Tower has a perfect east-west orientation that makes the afternoon sunlight a large heat gain cost. The fritted pattern creates a level of opacity that keeps cooling energy demands down but doesn't prevent the view out. That's the kind of stealth greening Myklebust is compelled to include in his work. There are as many motivations for developing a project as there are clients, and while many are eager to include so-called green features, just as many are not. M CO's answer is to incorporate passive green features that are low cost, time-tested, solutions that are fundamentally responsible and which developers will appreciate.