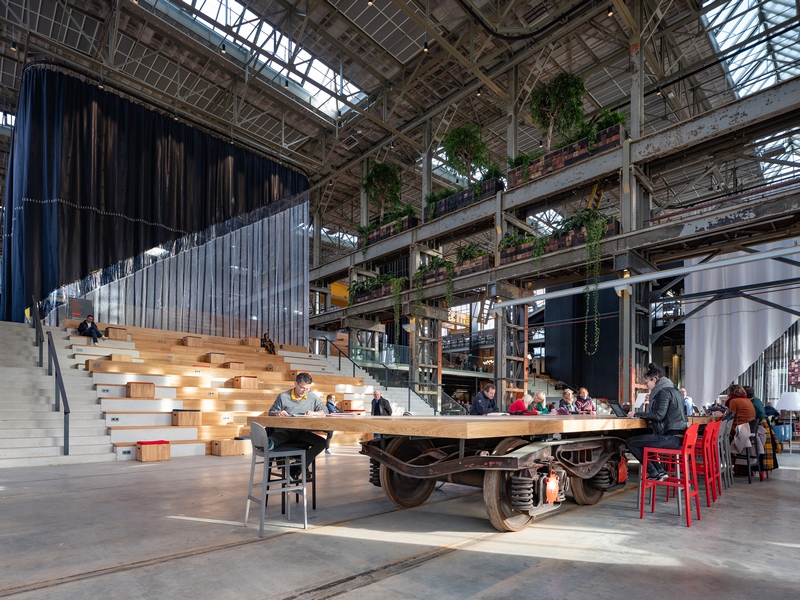 Project name and location: LocHal Library, Tilburg, Netherlands
Designed by: Mecanoo A former locomotive hangar has been transformed into a distinctive public library which redefines the conventional typology of such spaces. Providing ample opportunity for interaction and learning, the building acts as a covered public space, housing amenities shared by the library, arts organisations and co-working facilities. In addition to areas for lectures and public events, the building has a number of 'labs' for study. The architecture is a reinterpretation of the original late-industrial building, dating from 1932. This project capitalises on the existing structure, greatly minimising the amount of new structural elements.
A system of climate zones preserves the openness of the building, heating visitors in key contact zones. The building also facilitates the flow of people, its landscape of stairs leading visitors up into the building towards the gallery. This allows visitors to browse books or retreat into one of the quieter reading areas. Higher up, a large balcony offers panoramic views over Tilburg. Six grand and movable textile screens enable the flexible separation of areas and improve acoustics. During the day, abundant daylight creates intricate shadow patterns; at night, the building's interior becomes an inviting beacon in the city.