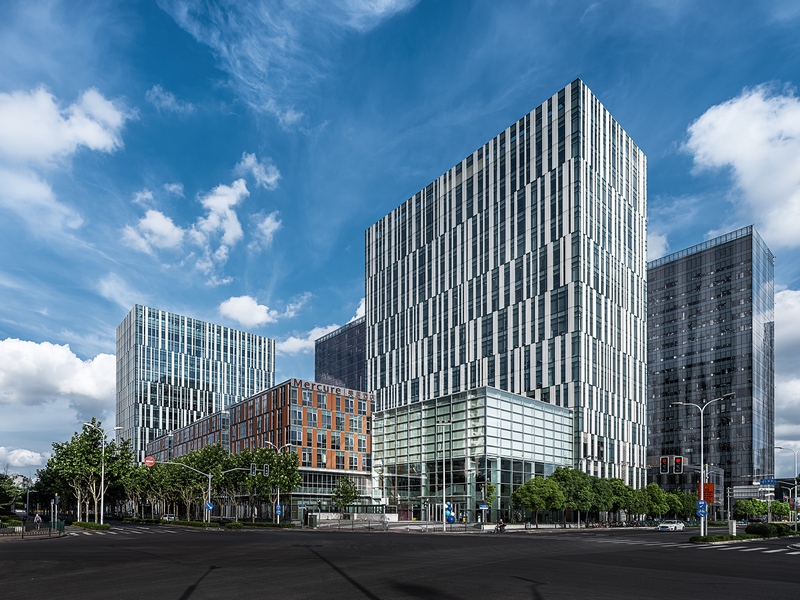 The Jerde Partnership has won the coveted Project of the Year (Commercial) for their project Shanghai World Trade Centre Phase III in the inaugural Build4Asia Awards held on 12 Nov at the Hong Kong Convention and Exhibition Centre.
Jerde Shareholder, Managing Director, Asia Pacific, Phil Kim, described the winning project as creating a new social hub and hearth for the community, Riverfront Bund delivers a vibrant urban village integrated into the pulse of the existing neighbourhood. Composed of two modern towers rising above a commercial podium of diverse programs and amenities, and a low-rise apartment hotel reminiscent of a wooden box, the project creates a dynamic realm offering dining, entertainment, work and lifestyle destinations all walkable and complementary to its surroundings.
The jury commented, "This project is very much about creating a sense of place. Beyond being a new commercial tower, the tower facades seem well resolved."
The design concept creates a delicate composition of terraced forms connected to the pedestrian experience. Wanderers emerging from the adjacent Olympic Aquatic Centre will discover the gentle upward crescendo of orthogonal gardens and plazas adorning the natural textures of its architecture. Woven together by a series of walkways and public perches emerging across the complex's levels, providing a pedestrian- scaled destination that offers an expanse of opportunities for social interaction and urban connectivity. While creating a series of summits that allow guests to emotionally and visually connect with the surrounding landscape, the project will also establish a highly tangible contribution to its community, integrating new public amenities such as community meeting spaces, child care programs, and plentiful green space and water connections, all amidst its collection of retail and offices.
Elevating the pedestrian experience to new heights, Shanghai World Trade Centre will be a destination connected to the city from the ground up, a place to observe and be observed, a place to experience the offerings of the new riverfront expanse. Throughout the site, each program responds to its neighbours, creating a residential cluster on the northwest side and office cluster on the southeast side, enhancing convenience for the tenants.
Jury member, Robert Gordon, concluded, "A delightful balance for work, rest and play, the development provides opportunity for a better work-life balance!"
For more information, please visit jerde.com.