(21 October 2020, Singapore) Today Steelcase revealed Steelcase® Flex Huddle Hub – the latest addition to the Steelcase Flex Collection. Designed for the age of agile and digital working, the highly adaptable system of user-friendly components allows teams to reconfigure their workplace, creating workstations or collaboration spaces on-demand. Whilst offering employees greater control over how and where they work, Steelcase Flex Huddle Hub also optimises the use of space as organisations reshape their office premises.
"As businesses continue to grow and innovate, the nature of teamwork has fundamentally shifted to become more interdependent, fast-paced and fluid. Today's hyper-collaborative teams have embraced agile and design-thinking methodologies to help them move faster and stay more closely connected to their customers," said Samantha Giam, Director of Product Marketing, Steelcase Asia Pacific. "These practices require rapid shifts between diverse activities. However, many workplaces have not adapted to keep up with this new way of working, and the prevailing fixed walls and immobile furniture can become hinderance to innovation, productivity and efficiency."
Steelcase's Flex Collection – comprised of mobile desks, seating, screens and accessories, including Steelcase Roam, a mobile mounting system for Microsoft Hub 2S – brings this latest addition to the family: Flex Huddle Hub, which offers organisations highly customisable solutions to allow on-demand reconfiguration of their spaces. As its name suggests, Flex Huddle Hub brings people together by creating dynamic team neighbourhoods that enable users to gravitate towards it, allowing them to shape their settings around their workflow and personalise their team space.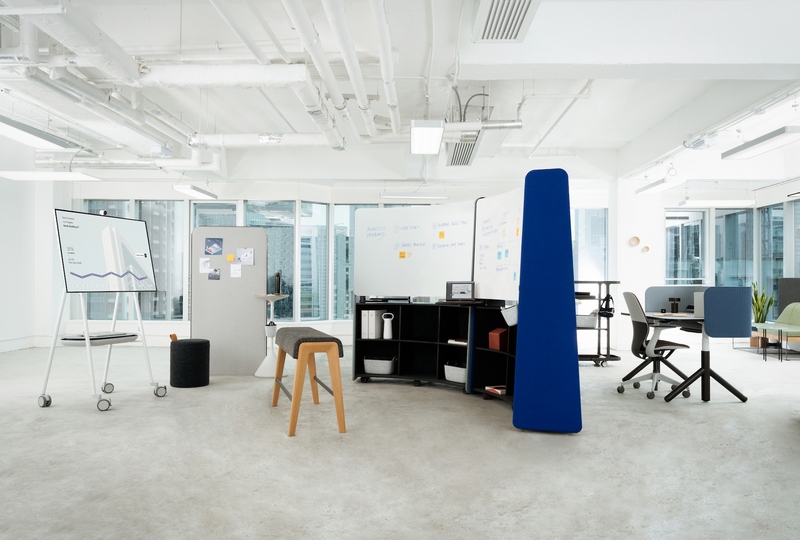 It was designed with four key principles for the modern workspace:
Bring teams together: Flex Huddle Hub allows teams to shift between varied work modes – from "big huddle", where they gather to align on work and understand new tasks, to "small huddle", where teams co-create and execute ideas.
The science of collaboration: Studies found that the ability to solve problems is influenced by our body's postures and movement. Designed to encourage movement and optimise cognitive processes, creativity and learning, Flex Huddle Hub allows teams to engage more deeply and to ideate better and faster.
A home for teams: Flex Huddle Hub creates dynamic team neighbourhoods for the high-performing, modern workplace. It offers privacy and control over the environment, providing a "safe haven" where teamwork can be cultivated and new ideas can incubate. When used as a room divider, Steelcase Huddle Hub also provides the privacy needed for focused tasks.
Active learning: The system's mobile components can be grouped together to form learning and training spaces that encourage participants to stand or perch, side-by-side, to be more engaged in the creative process.
Flex Huddle Hub's inner surface features a 55° curved whiteboard alongside device holders to support seamless, ergonomic sharing of analogue and digital content, whilst the outer wall is tackable and allows a wide range of material finishes to suit the users' culture and needs.
"Flex Huddle Hub supports visual focus and provides physical and territorial privacy. Its unique geometry offers a sense of enclosure and creates a focal point that pulls the group into the action," said Joe Ho, Senior Designer of Steelcase APAC. "The system's ergonomically calculated 55° curvature creates a welcoming environment that facilitates inclusivity and empowers users to stay active, focused and engaged during collaborative sessions".
Steelcase Flex Huddle Hub is available now across the Asia-Pacific region. For more information, please visit: https://bit.ly/3ki1tjc.