agnès b. Galerie Boutique has always brought beautiful and artistic works to Hong Kong. This January, agnès b. Galerie Boutique was pleased to welcome renowned, published Belgian cartoonist turned artist, François Olislaeger, who has participated in exhibitions at the Contemporary Art biennal in Le Havre in France, at the Cité de l'Architecture and at the Gaité Lyrique. In Hong Kong for the first time, François exhibits his Une Fleur Par Jour (A flower a day) project inspired by his obsession with heavenly flowers.
In 2016, François Olislaeger turned himself into a florist crafting an incredible herbarium of Cacti, Bougainvillea, Lysis, Daisies and Tulips with the utmost care and attention to detail. It is here that he honed in on his craft using gentle, pastel watercolours to depict "simply" feeling the power of flowers and paint.
Through each flower's lifecycle François focused on the emerging blossoms, changes of colour palettes, the variation of gestures and movement from each unique bloom, he then reinterpreted it through soft watercolours onto canvases with a sense of artistic freedom and playfulness.
François Olislaeger's flowers don't have the precision of botanic boards – it is not his vocation. They don't have the radicalness of those of Ellsworth Kelly yet. The creativity is somewhere else, in the context, in the setting, some details more or less noticeable – a colour, an incongruous presence, and petals hanging. François Olislaeger's flowers are innocent. For the moment, they talk mainly about love – of art, of life, of a father for his young daughter Lila – and about the transformation of a very talented cartoonist becoming a painter.
agnès b. Galerie Boutique is showcasing more than 80 pieces of François's collection in this exhibition, some of the artworks were previously exhibited in agnès b. Galerie du jour in Paris, however for the majority of his collection – this is their first showcase and the exhibition is now open to public until 30 June 2019.
agnès b. Galerie boutique was delighted to welcome François Olislaeger to the vernissage of his exhibition at the agnès b. Galerie Boutique on the night of 31 January 2019. Media and KOL friends were treated to a personal recollection of what inspired him to create his artwork as well as witness François live paint the Lily and two other artworks exclusively for the Hong Kong exhibition. agnes b. Galerie Boutique also designed 7 styles of temporary tattoo stickers that guests were about to take home a memory of his art.
Visitors are welcome to visit agnès b. Galerie Boutique, located at shop 119, K11 Shopping Mall, 18 Hanoi Road, Tsim Sha Tsui, Kowloon to view François' exhibiting from 1 Feb 2019 until 30 June 2019.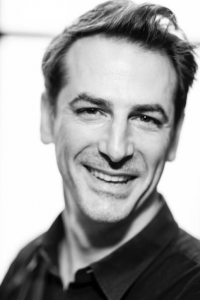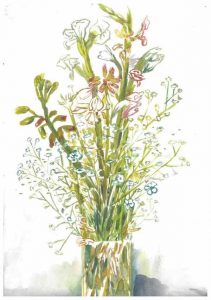 Exclusive Privilege
Date : 1 March 2019 – 30 June 2019
Privilege : Visit agnès b. Galerie Boutique and upload photos of François Olislaeger's "Une Fleur Par Jour" exhibition on Instagram with #hashtag to enjoy 10% off on a preserved flower in agnès b. FLEURISTE
More information : https://www.agnesb-happyb.com.hk/en/node/243
Event Details
Date : 1 February 2019 – 30 June 2019
Location : agnès b. Galerie Boutique,
shop 119, K11 Shopping Mall, 18 Hanoi Road, Tsim Sha Tsui, Kowloon
Opening Hours : 11:00 – 21:00